Posted on
Thu, Jan 10, 2013 : 5:59 a.m.
Bad work days can help you to appreciate the good ones
By Rich Kinsey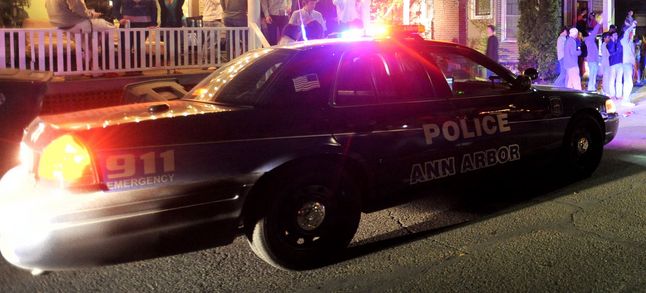 I am a lucky man.
For the past 30 years or so I have been engaged in a profession that I have truly enjoyed. Like every job, not every day is great. I have always shrugged the bad days off and told my family that you have to have some bad days in life, in order to appreciate the good days.
Apart from the tragedy and cruelty police officers see throughout their careers — which can certainly put a pall on their day — there are just some days that everything you touch goes wrong.
"Coach Sok," my police academy director, one of the men who brought the Field Training Officer Program to Michigan and current president of Field Training Associates — which educates veteran officers how to teach new police officers — had a term for really bad days during Field Training. Coach Sok called them a "snow day."
A "snow day" starts when a rookie officer makes a mistake, gets rattled by the mistake and can not seem to function while under the watchful eye of a field training officer who is placing numerical grades on the rookie's performance. These normally occur early in training, and the wise field training officer realizes the officer is not reacting to what is going on in the street, but worrying more about being graded, and consequently everything they are doing is going wrong.
On such a day, to calm the recruit, the field training officer will declare a "snow day," and dramatically tear up the grading sheet and either take over the car or at least tell the rookie, "Okay, let's just go out and have some fun and do some good police work."
Once a police officer is out of training, there are no snow days, so you just have to ride out a bad day. Those days it is best to take a step back, hole up somewhere and catch up on paperwork you have been meaning to do.
A typical bad day might start off with a dead battery on your personal car. That caused you to forget to pick up your dry cleaning and thus not have a clean uniform shirt in your locker. You break a shoelace putting your boots on, and the sergeant informs you that long report you wrote yesterday got "lost in the system" and will have to be rewritten. Every adult has had such a day.
Next you may go out on a traffic stop and decide not to issue a ticket, but give a warning accompanied by a little lecture. I believe an officer should either write a ticket or give a verbal warning explaining—perhaps lecturing — why what the motorist did was dangerous and illegal. Adult motorists should get a ticket or a lecture—but never both.
On this bad day, however, while you are lecturing the motorist you feel an odd draft and realize your fly is down. Nothing kills your command presence while trying to be stern more than having your fly down, an errant mucoid dangling from your nose or slipping on ice walking back up to deliver the warning. Great safety lectures are lost on the motorist, whose attention is drawn more to your buffoonery than the eloquence of your verbal warning.
If your head is not properly in the game in police work, it can be dangerous to you and the public you serve.
Some days can go from good to bad in a heartbeat — like when my old police academy mate, Wilma, and I spotted a brand new pickup truck with a motor scooter and some other power equipment in the pickup truck's bed, out cruising around in freezing rain at 4 a.m. at East Stadium and South Industrial.
We ran the license plate and found the truck was stolen. We activated the toplights on the police car, and the chase was on. Through ice-covered side streets north of Stadium, we slid around after the stolen pickup with the other stolen goods. All was proceeding well in this rather low-speed chase caused by the ice on the roads.
The thieves came to the T intersection at Brooklyn and Golden. On this darkened icy night, the thief driving the pickup mistook the driveway, running westbound along the north side of an apartment building, as a continuation of Brooklyn.
What are the chances at 4 a.m. on a weekend that an Edison truck would have a lineman up in a bucket working on a power line right at the end of that same driveway? Today I realize, better than usual, since there was an ice storm.
The driver of the stolen pickup tried to shoot the gap between the apartment building and the Edison truck with inevitable results — he crashed and wedged into the corner of the apartment and the rear of the lineman's truck. That stolen truck quickly stopped.
I came to a stop while undoing my seat belt. Wilma was doing the same; she tossed the radio microphone on the seat and bailed out of the passenger seat after the pickup truck passenger. I lost track of her about that time.
When I bailed out of the car I was surprisingly quick out the door. Hasty is a better word. I took about three steps around my door and towards the pickup before I fell due to the ice.
Then I noticed how earsplittingly loud it was in front of the car because the siren was still yelping—that sounded really stupid but was not my biggest problem.
The much more immediate and critical problem was that, in my haste, I had neglected to shift the police car into park. I ran back around my open car door to stop the car, about the time the right front bumper hit and broke a 6-foot-tall privacy fence.
The thieves were long gone. The lineman got bumped around in the bucket but was relatively unscathed. The pickup truck damaged the corner bricks on the apartment building, the rear of the Edison truck and, of course, both sides of the stolen pickup. I do not recall if the suspects were caught by back up officers or not.
All I remember at this late date are the reams of paperwork I cost Wilma and I and the later comparisons of my pursuit performance to the Keystone Kops. It was a bad night at the office.
Lock it up, don't leave it unattended, be aware and watch out for your neighbor.
Rich Kinsey is a retired Ann Arbor police detective sergeant who now blogs about crime and safety for AnnArbor.com.