Posted on
Sat, Jun 25, 2011 : 5:56 a.m.
Students recognized by lawmakers for work to make streets safer for bicyclists
By Michelle Meunier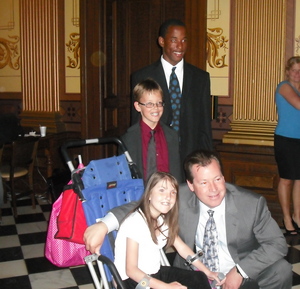 Katie Birchmeier, James Kleimola (back) and Conor Waterman speak with Senate Majority Leader Randy Richardville.
For James Kleimola, riding his bike around Ypsilanti gives him a sense of independence.
The 19-year-old Ypsilanti resident has cerebral palsy and can't drive, so he uses his bike to get to
Eastern Michigan's
Young Adult Program, EMU football games and church.
"I'm just going to continue to follow the rules and to stay safe, ride to the EMU young adult program," Kleimola said. "I would like to ride more places to become more independent. That is what I want in the future."
Kleimola, along with 10 year olds Conor Waterman and Katie Birchmeier, both of Saline, were recognized June 22 by the Michigan Legislature as state advocates of the year for their work in making streets safer for bicyclists.
These three youths are students of programs to educate all cyclists, PEAC, and testified in front of the Michigan House and Senate Transportation committees along with the Disability Caucus to help support the Michigan Complete Streets legislation in 2010.
John Waterman, executive director of PEAC said that Complete Streets has to do with road access issues.
"A lot of times we're designing roads with just cars in mind, but there are individuals like these three that won't have the opportunity to use cars," he said. "Looking at our streets for all users, we're really using our public dollars to fund so everyone has access to our community, which is so so important."
Birchmeier, Waterman and Kleimola are all youth facing disabilities, and PEAC is a place where they can come together.
Kleimola said that in the end, bike riding is his only option in getting around the community, and he wants to have that access.
"I need my roads to be safe, and I don't want to get hit by a car," he said. "I really don't want them to feel sorry for me because I have a disability. I just want the roads to be safe and the workers that are going to fix the roads to say, 'This is what we're going to do to make it better.'"
The kids were not afraid to present their stories in front of strangers, but instead took advantage of the opportunity that they were given.
Waterman, who needs to wear hearing aids and glasses, said that his speech was very serious, except for one silly part.
He said he knew that his roads were unsafe and that he did not want to get "squished" by a car.
Birchmeier, who has spina bifida, said that talking to the representatives wasn't intimidating.
"I was happy to talk about it, and it was fun," she said. "It would help a lot of kids to ride their bikes safely so they don't get hurt."
Katie's mother, Laura Birchmeier said that one of the biggest worriese for her as a parent is that she does not know how Katie will get around the community once she grows up.
"Looking at this as a primary means of transportation for her life and for her independence is huge. Right now she's 10 and she feels free when she rides her bike," Birchmeier said.
Katie's initial speech to the Transportation Committee was about being an adult and getting around the community in safe ways.
"She recognizes the importance of that, and I think the fun part of riding a bike is where she is right now, and as we talk about it and talk about her life, she recognizes that this is an important skill to have," Birchmeier said.
Birchmeier said that Complete Streets is going to give people with disabilities an opportunity to be heard and Waterman agreed.
"The act isn't set up to prescribe any specific treatment; it's to make sure all users are considered," he said.
No funding goes into the Complete Streets program. When a community puts money into its roads, walkers, cyclists and individuals using mobility devices are to be considered to make sure they have proper access in the community.
Chris Kleimola, James' mother, has a son David, and a daughter Rachael. Rachael has Wolf-Hirschhorn Syndrome, a rare chromosomal condition that leads to developmental delay and mental retardation, which constricts her to a wheelchair. With the help of PEAC, the whole Kleimola family is able to participate in family rides.
Chris wondered how to get Rachael involved in this program, so Waterman and the rest of the people at PEAC developed a trailer that could be pulled by a bike; they call it Rachael's chariot.
"We can enjoy recreation, which is something I enjoy. Before, I had to just push her in a wheelchair," she said. "I like going outside, but riding a bike is much more being together."
Waterman said the effect a bike ride can have on someone like Rachael is life changing.
"Someone from a distance wouldn't realize what that means to her life, but you're looking at someone who has been trapped in her house, now having a chance to enjoy the outdoors, which is the greatest freedom anyone can have."
The family rides that PEAC puts on attract up to 100 participants.
Family rides happen every Thursday night at Willow Metropark, and PEAC brings any special equipment needed.
Before being able to participate in family rides, the PEAC staff likes to have participation in the summer program. They would like to work with each student to assess each one's abilities and make sure the family ride will be doable.
Summer program fees are $30.
With three young citizens becoming such great activists for the disabled community and bike riding community, it sends a message to older people on the important things that should be seen, the kids say.
"It's so important that we look at all individuals that travel. Too often we start thinking of bike safety we start looking at the like work of clad guys riding their bikes, and that's the initial kickback we hear motorists saying, 'They're in my way when they're riding around,'" Waterman said. "They don't think of the young man that faces a cognitive challenge trying to get to his job, trying to live in his apartment and trying to have access to his community."
Michelle Meunier is an intern for AnnArbor.com. Have a community news tip? Email community@annarbor.com.