Posted on
Fri, Feb 1, 2013 : 5:56 p.m.
Commissioner Yousef Rabhi raises $4,135 for haircut in name of homeless relief
By Amy Biolchini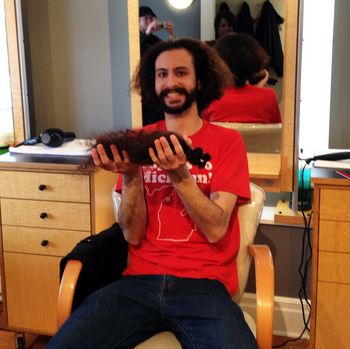 Amy Biolchini | AnnArbor.com
It took $4,135 for
Washtenaw County Board of Commissioners Chairman
Yousef Rabhi
, D-Ann Arbor to chop off his hair Friday afternoon at
Salon 344
Ann Arbor -- and it was all for a good cause.
Rabhi, 24, is known for his long mane of black, curly hair. He hasn't cut it since 2005, and it reaches almost to his waist.
Rabhi was elected chairman of the board in January at the beginning of his second term. He announced the fundraising effort in November at a board meeting, when he said that he wanted to be able to contribute to Washtenaw County agencies working to help the homeless.
The money will go to Safe House Shelter, the Shelter Association of Washtenaw County and the Alpha House run by the Interfaith Hospitality Network, and the more than a foot of hair that Rabhi had cut off will go to Locks of Love.
Donations were coordinated by the United Way of Washtenaw County, and were collected from Thanksgiving to the beginning of January.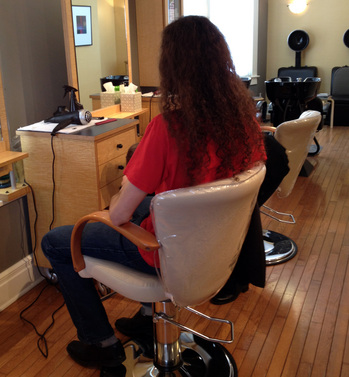 Amy Biolchini | AnnArbor.com
Rabhi said he hasn't had short hair since middle school, and has worn a variety of hairstyles since. The most recent iteration was a long ponytail-type bun that keeps his hair in check.
The haircut was purely his own decision, Rabhi said.
Though he was advised during his election campaigns to cut his hair and shave off his facial hair, Rabhi said he wanted to stay true to himself and kept his appearance the way he wanted it.
Friday, Rabhi brought in a picture of race car driver Dario Franchitti as an example of what he wanted, but he let Salon 344 stylist Mary Lammers take the reins.
"I'm just a commissioner, I'm not a hair stylist," Rabhi said.
Watch the video of the process to see the final product:
Amy Biolchini covers Washtenaw County, health and environmental issues for AnnArbor.com. Reach her at (734) 623-2552, amybiolchini@annarbor.com or on Twitter.