Posted on
Wed, Dec 9, 2009 : 6:02 a.m.
Ypsilanti mayor says city is close to budget goals, but with job cuts
By David Wak
Ypsilanti Mayor Paul Schreiber says the city is closer to reaching its overall budget goals through 2014, but it will mean layoffs in the police and fire departments.
The number of layoffs isn't yet clear. City staff is expected to present more details at the next council meeting Dec. 15 and also during a goal-setting meeting on Jan. 11.
Schreiber said the city needs to make $1.4 million in cuts to reach its goals, and the council decided $1.1 million will come out of the police and fire funds.
Fire and police account for $6.9 million of the city's $8.7 million in discretionary expenditures. Ypsilanti City Council members said they saw it as the most logical place to make cuts.
Schreiber said he's glad the City Council is taking decisive action to address the budget.
"I'm also very pleased that city council has given specific direction to city staff to continue progress on balancing the budget until 2014," Schreiber said.
Council Member Bill Nickels said the salaries for some police officers will be paid using drug forfeiture money, lessening the impact of the $1.1 million in cuts. No specifics were provided.
"The balance of the $1 million will necessarily come from laying off some public safety employees," Nickels said. "At this time, it is uncertain what we will do to cut the remaining $.4 million."
City Manager Ed Koryzno said the city will hold several budget meetings over the next few months to finalize the cuts.
At a November meeting, Koryzno said the city would see a $5.2 million shortfall by 2015 unless cuts were made. The council was presented with two budget options: cut 17-24 jobs but save more in the long run, or hold off on making cuts until after 2012, but potentially lay off as many as 54 employees to offset the deficit.
Council members said they favor the first option because it would be less painful in the long run.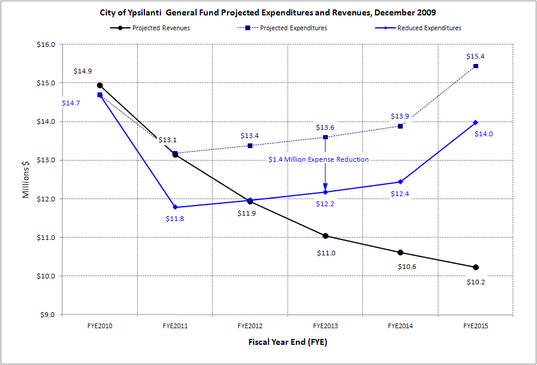 David Wak is a freelance writer for AnnArbor.com. Reach the news desk at news@annarbor.com or 734-623-2530.