Posted on
Wed, Dec 2, 2009 : 3:14 p.m.
Ypsilanti considers moving emergency dispatchers to county
By David Wak
Cash-strapped Ypsilanti is considering moving its four police and fire dispatchers to Washtenaw County Central Dispatch to save $79,000 annually.
Ypsilanti Interim Police Chief Paul DeRidder gave a presentation to City Council Tuesday, outlining the benefits of such a move. He said emergency calls would go through the county dispatch center instead of the Ypsilanti Police Department, but residents wouldn't see any decreased service from the move.
If the city decides to go with the county, it would enter into a four-year contract at $73,000 per year. The council may discuss and vote on it at its next meeting on Dec. 15.
Currently, the city's four dispatchers handle all emergency calls for both the police and fire departments. City officials say the move will save $160,000 in costs for the four dispatchers, but the city will lose $70,000 in special state revenues it gets from running its own dispatch center.
Washtenaw County Sheriff Jerry Clayton, who was on hand at the meeting, said the Sheriff's Department wants to eventually handle all police dispatching in the county, while Huron Valley Ambulance would handle fire and medical dispatch services.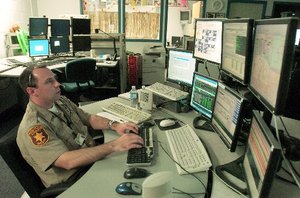 File photo
Clayton said a regional system would help eliminate communication breakdowns and duplication of services between police agencies.
"I think that gets in the way of smart, efficient service," Clayton said.
Ypsilanti police would still handle non-emergency calls using officers and office staff, and residents could use the emergency call button at the lobby of the police station when it's closed to route calls directly to the sheriff's dispatch center.
DeRidder said the dispatchers, who would work for the county, would see benefits from the move. But he said it would cost the city $25,000 to buy out the dispatchers before they went to work for the county.
DeRidder said dispatchers are sometimes overworked with 12-hour shifts, and often only one dispatcher is on duty. When dispatchers take time off or are sick, their shifts have been filled by police officers, which drives up overtime costs and leaves fewer cops on the street, DeRidder said.
If the dispatchers work for the county, they'll see a pay increase from $44,000 to $51,000, but will lose their seniority, DeRidder said. He also said they'll be part of a larger team of 17 dispatchers.
Several council members asked for more details.
Council Member Brian Robb asked DeRidder what costs the city would incur if it opted out of the county system after four years. DeRidder said he didn't have figures, but those costs would be significant.
Ypsilanti firefighter Ken Hobbs, president of the Firefighters Union Local 401, said the fire department has been requesting to move its dispatch to HVA for years.
Currently, the fire department pays $106,000 annually out of its budget for dispatching, while it would only cost $36,000 to use HVA for the same service, Hobbs said.
Several residents spoke out against the idea. They expressed concern that police response would be slowed down in emergencies, and local response to non-emergency calls would also suffer.
Resident Sheranda King said going through the county would create too many roadblocks for city police to respond to emergency calls.
"Any time you add another step, it increases response time," King said.
David Wak is a freelance writer for AnnArbor.com. Reach the news desk at news@annarbor.com or 734-623-2530.