Posted on
Mon, Jun 13, 2011 : 5:05 p.m.
Ypsilanti community pitches in to help 97-year-old woman tear down garage, avoid city fines
By Tom Perkins
For several months, Helen Marshall received notices and citations from the city about the deteriorating garage behind her Harriet Street home near Ypsilanti's Parkridge Community Center.
A blight court date came and went, but the 97-year-old resident didn't understand what the notices meant. She has lived at the house for 68 years and has few relatives left in the area to help with the issue.
Finally, after receiving several letters and tickets from the city, she contacted her pastor at the Saint Paul Missionary Baptist Church in Ann Arbor.
The pastor alerted Washtenaw County Commissioner Ronnie Peterson and Ypsilanti City Council Member Ricky Jefferson to the woman's situation, and on Sunday, a team of volunteers tore down the garage and began removing debris from Marshall's property.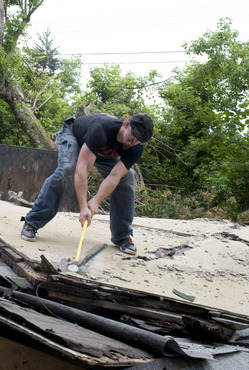 Tom Perkins | For AnnArbor.com
Jefferson said he and Peterson met with City Manager Ed Koryzno, ordinance officer Frank Daniels and several others to discuss how to resolve the situation and avoid a similar issue in the future.
"She wasn't aware of how things worked and she never answered any of the notices of violation — she had no idea about it," Jefferson said. "She was in a situation where, at her age, she didn't have the ability to take care of it."
Leonardo Christian contacted the Arm of Honor fraternity house, which is made up of Eastern Michigan University students. They offered their labor for a Sunday afternoon, and Ryan Williams, who arranged the plan with Christian, said his group simply wanted to help out an elderly resident.
"She didn't seem to have a lot of money, and we knew she couldn't do it. We're a big group of young guys, and this is the kind of thing that we're here for," Williams said.
Leonardo also secured a financial donation that paid for an industrial trash container for disposal of the debris, as well as lunch for the Arm of Honor group. Ypsilanti resident John Brown also pitched in resources and helped pull down the garage with his truck.
The ticket ordinance officers wrote was for $200, but assistant city manager April McGrath said the fee and ticket would be waived upon completion of the garage's removal.
"One of the strengths of our neighborhood is when we realize there's a problem, we come together and address it," Jefferson said.
Tom Perkins is a freelance reporter for AnnArbor.com. Reach the news desk at 734-623-2530 or news@annarbor.com.