Posted on
Mon, Jun 21, 2010 : 6:02 a.m.
Ypsilanti summer road projects to focus on College Place, Mansfield Street, Forest Avenue
By Tom Perkins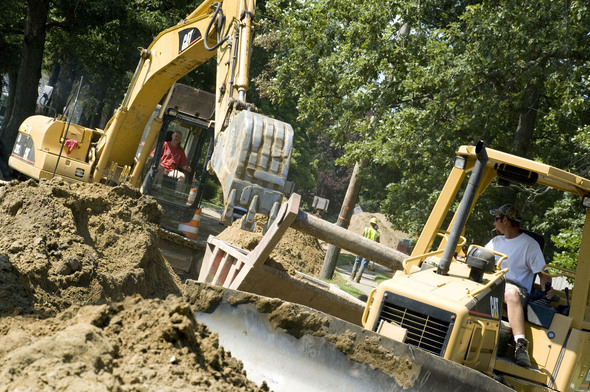 Tom Perkins | For AnnArbor.com
The City of Ypsilanti has put up the orange barrels marking the start of the summer road construction season.
Projects on College Place and Mansfield Street between Congress Street and Westmoorland Street are under way, while a stretch of Forest Avenue will receive an overlay later in the summer.
The projects total roughly $1.4 million, which is divided among several entities that are contributing to the efforts.
The College Place and Mansfield Street projects are scheduled to run through late August, but Stan Kirton, Ypsilanti's public service director, said he is confident both could conclude early.
Tom Perkins | For AnnArbor.com
College Place is undergoing reconstruction between Forest Avenue and Cross Street. Concurrently, the Ypsilanti Community Utility Authority will perform water main work, while Eastern Michigan University is installing brick-patterned crosswalks at each end of the street.
The city is also reconstructing the sidewalks, bringing the project total to roughly $200,000, which will be paid for with American Reinvestment and Recovery Act funds. EMU has dedicated $60,000 for the crosswalks, and the YCUA will contribute $81,000 for water main work.
The project has been discussed over the last several years, but EMU had previously planned to turn the street into a pedestrian mall. Since those plans fell through, the city made the street's reconstruction a priority, Kirton said.
"It has been one of the worst roads in the city," he said. "It needed this bad - when you hold off on a bad road, it deteriorates worse."
Kirton said the College Place and Mansfield Street projects received low Paser ratings, a visual measure of a road's deterioration used to determine which roads receive priority.
The Mansfield Street is expected to cost more than $557,000 and is also covered by ARRA funds, while the YCUA budgeted $303,000 for new water mains.
Kirton said Forest Avenue between Adams Street and College Place will receive a fresh layer of asphalt, and bike lanes continuing east to Norris Street will be installed on either side of the street. That project will begin later in the summer.
Funding for the Forest Avenue project comes from several sources, including $64,000 in Congestion Mitigation and Air Quality funds for the bike lanes. Washtenaw County Parks and Recreation is contributing $16,000 toward engineering costs, while $75,000 in CDGB funds will cover engineering and project costs.
Kirton said he expects the projects to wrap up ahead of schedule, despite that five positions have been cut from his department over the last two years.
"We're doing the best we can," he said. "We do extra work, but we understand that's what it's going to take to get it done."
Tom Perkins is a freelance writer for AnnArbor.com. Reach the news desk at news@annarbor.com or 734-623-2530.