Ypsilanti school district's busing problems are impacting teachers, union president says
Posted on Mon, Sep 27, 2010 : 10:32 p.m.
Ypsilanti teachers union president Kelly Powers says continued problems with the district's new transportation system are being felt in the classroom.
"It's a catch 22," Powers, president of the Ypsilanti Education Association, said at Monday's school board meeting. "Learning time for all these students is important, and it's frustrating for teachers that we're told all the time to get test scores up. and it's hard to do that if the kids aren't in school."
"It's said that you get what you pay for, and guess what? You did."
It's been almost a month since administrators and trustees from Ypsilanti started hearing complaints regarding the district's new busing system, now run by the Washtenaw Intermediate School District. Ypsilanti joined the consortium along with the Ann Arbor and Willow Run school districts.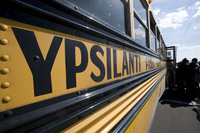 File | For AnnArbor.com
Parents told trustees about how their children arrived to school about an hour late and weren't able to get the breakfast the schools provide. Superintendent Dedrick Martin said Monday was the first he had heard of buses arriving to schools more than one hour late for at least a week.
Martin said this week is the first with the full complement of new employees hired to drive Ypsilanti routes. While many of the new drivers were going through the certification process, substitutes and retired drivers from other districts were taking their place.
"We had experienced drivers but not experienced with Ypsilanti routes," he said.
Martin said he's been getting daily reports on transportation. He said the latest arrivals he heard of in the last week were at 8:40 a.m., 28 minutes after elementary classes begin.
Routing issues are continuing to be fixed, Martin said. Traditionally, Ypsilanti schools have provided door-to-door busing for kindergartners. However, the WISD didn't change the routing for current first graders, meaning both kindergartners and first graders were getting door-to-door service, an increase from 200 students to 500 students getting the service.
Trustee Andy Fanta said he wasn't surprised the issues were persisting. He suggested the superintendent contact other members of the consortium and compare notes on how they are dealing with their issues.
Trustee Kira Berman invited the WISD to the board table to answer trustees' questions on what's going wrong.
"I don't think this is a wise use of our students' time," she said.