Posted on
Tue, Sep 20, 2011 : 5:57 a.m.
More Ypsilanti businesses are finding huge financial savings in solar energy
By Tom Perkins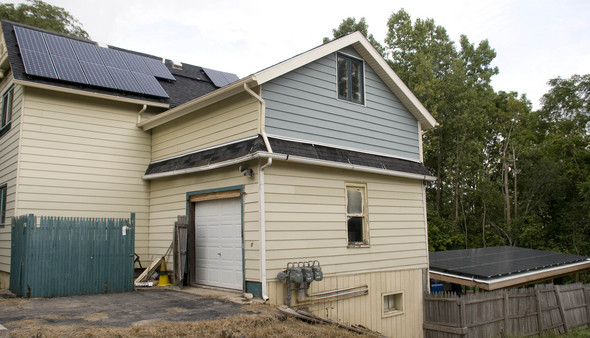 Tom Perkins | For AnnArbor.com
Kevin Krzyzanski is no longer paying DTE Energy for electricity. In fact, for the next 20 years, there's a good chance DTE could be paying him for his contribution to the power grid.
That's because Krzyzanski installed a 55 solar panel array on the roof and carport of the home he rents out, which is capable of producing 13 kilowatts daily.
When the sun is shining during the day, he sends excess power he produces but doesn't use into the DTE grid. DTE gives Krzyzanski credit for that energy, and the credits are used when the sun isn't shining and the home pulls power out of the grid.
Like several other business owners in Ypsilanti, Krzyzanski is finding that solar energy, which was once something he found fascinating but never made financial sense, can be a smarter investment than in the past.
His rental home at 403 S. Huron St. is one of a small but growing group of buildings in Ypsilanti utilizing solar power that includes the River Street Bakery, Ypsilanti Food Co-op, Adams STEM Academy and the Ypsilanti City Hall. In addition, the Corner Brewery is undertaking a large solar energy project that will provide both electricity and hot water to the building by the end of the year.
Krzyzanski made the project financially possible through several measures. He utilized a federal tax credit covering 30 percent of the installation. He also applied for the now-expired DTE Solar Currents program, which offered $2.40 cents up front for every watt his 13 kilowatt system was capable of generating. Additionally, the program pays 11 cents for every kilowatt he generates for 20 years.
Krzyzanski rents the home out, so it qualifies as a commercial property. When he does his taxes this year, he will be able to use the six-year depreciation instead of 30-year.
The bottom line — after taking out a loan for $82,000 to purchase highly efficient solar panels, the total out-of-pocket cost came to around $24,000. Krzyzanski expects to have the array paid off within five years.
"As a hobbyist I wanted to (use solar energy), but as business owner I never could do it," he said. "But when I saw the new incentives available it became less of a 'green' thing and more of a financial thing. I said to people 'You would be a fool to pass up on the opportunity.' "
Corner Brewery owners Matt and Rene Greff will begin installing a 156-hybrid solar panel system on their roof and southern awning next week. When complete by the end of the year, they expect the brewery's gas and electric bills will be cut in half, saving them about $20,000 annually.
The hybrid panels they are installing are made by Power Panel in downtown Detroit and work by trapping heat with photovoltaic plates placed over the solar panels. That heats tubes underneath the panels that then run hot water to a highly insulated hot water storage unit.
Matt Greff said he expects the $155,000 investment, which is partly funded by the federal tax break and various DTE incentives, will pay itself off within five years.
The decision to invest in renewable energies came after being informed of the benefits by a variety of experts. Solar Ypsi's Dave Strenski approached the Greffs after they opened and explained why their building was uniquely positioned to have a successful solar array. An energy audit offered through the Ann Arbor Downtown Development Authority further informed them on the benefits, and a team from the University of Michigan's School of Natural Resources master's program did a full analysis of the brewery's energy use and available incentives for a thesis project.
After listening to the recommendations from the students' "Green Brewery" project, the Greffs decided to move forward with the system.
"The 'Why?' is partly because we're interested in reducing our carbon footprint and partly because it just makes sense on the bottom line," Rene Greff said.
In Depot Town, the Ypsilanti Food Co-op is partly run on solar power and its River Street Bakery is run fully on renewable energy via its solar panels and a wood-burning stove. The buildings hold a total of 42 panels that can produce a combined total of 8.3 KW of electricity in peak hours. On sunny days, the bakery exports its excess energy back into DTE's power grid and receives credits it can apply toward energy on cloudy days or at night.
Ultimately, the bakery ends up creating more power than it uses, director Corinne Sikorski said.
The installation was covered by a $44,000 Michigan Department of Labor, Energy and Economic Growth grant.
Like others in Ypsilanti, Strenski played a role in persuading the co-op to consider solar energy and installing the panels, and the project was recently featured in Google video. Sikorski said the co-op has always prioritized reducing the amount of energy it uses, and solar energy made sense as the business expanded.
"The co-op has always attempted to have as low of an impact as possible going back to when we started," she said. "It has never been about 'How can we market ourselves as being more green?' it has just been what we are."
Strenski also recently helped the Adams STEM Academy secure a grant through the Michigan Renewable Schools Program. That allowed the district to install 10 panels on its roof. Although it generates only a percentage of the schools' energy needs, Strenski says one of the benefits is the real time graphs on Solar Ypsi demonstrates to students and others how much energy is used.
Real time energy graphs for Adams, the co-op, River Street Bakery, Adams and City Hall are all available on Solarypsi.org, along with a wealth of information on each project and solar energy. Strenski said the site, which was developed with EMU student Nick Estep, also will soon have real time energy usage graphs for Krzyzanski's building and likely the Corner Brewery in the future.
The site also has information on the Oct. 1 National Solar Tour, which will feature all of Ypsilanti's solar sites, including the Corner Brewery. Participants are invited to visit each location, where Strenski and other solar experts will be on hand to answer questions about each project.