Posted on
Sat, Jul 21, 2012 : 4:55 a.m.
Ypsilanti Color Run expected to bring thousands to the city Sunday
By Lisa Carolin
On Sunday, Riverside Park in Ypsilanti will transform into a "race village" as the Color Run adds a splash of color and as many as 30,000 participants to the city.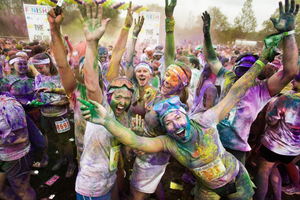 photo by Brian Hall | courtesy of the Color Run
The area right across the river on Cross Street at Depot Town will be the starting line for the
Color Run
, a 5K that is described as "less about speed and more about enjoying a color crazy day with your friends and family."
Racers get equipped with color packs that they can throw anytime after the race begins. The first wave of runners start at 8 a.m., and additional waves leave every 10 minutes until round 9:20 a.m.
"The race will be bringing as many as 30,000 people into Ypsilanti the day of the race, so this is a major opportunity for the city and the businesses to really sell ourselves as a great place to visit or live," said Tim Colbeck, executive director of the Ypsilanti Downtown Development Authority.
This is the first year of the Color Run in Ypsilanti, which is being coordinated by the Ypsilanti Area Convention and Visitors Bureau.
"We have been notifying businesses and residents of street closures and what to expect the day of the event," said Christine Laughren, the organization's communications manager for executive director, adding that they are also working on a parking plan for the event and coordinating the volunteer effort.
Laughren, who estimates $1.8 million in visitor spending because of the Color Run, is putting together a map of Ypsilanti's landmarks for participants that will include the Ypsilanti Freighthouse, the Thompson Building, the Hutchinson Mansion, the water tower and Riverside Park.
"The run starts in Depot Town and continues to the campus of Eastern Michigan University and downtown Ypsilanti, finally ending back in Riverside Park," said Laughren.
"In addition to the very positive economic impact the Color Run will have on our county, it also gives us the opportunity to showcase the city to thousands of new visitors," said Debbie Locke-Daniel, executive director of the Ypsilanti Area Convention and Visitors Bureau.
There are two rules for the race: Runners must wear white shirts when they begin the race, and at the end of the 5K course, they need to be covered in colors.
Each kilometer of the event has a designated color, and as the participants run or walk through "color run zones," they get blitzed by volunteers, sponsors and staff with the color dust, which is said to be completely natural and safe.
Registration spots are sold out.
To learn more about the Ypsilanti Color Run, go to the event's website or call 734-483-4444.