Posted on
Sun, Jul 8, 2012 : 12:37 p.m.
Ypsilanti family heads run/walk fundraiser in fight against sarcoma
By Lisa Carolin
Deadre Nemec and her family are taking over the reins of the Stomp out Sarcoma Fun Run/Walk that will take place Sunday, July 15 at 9 a.m. at the Hudson Mills Metropark.
They want to raise awareness about a rare form of cancer that Deadre was diagnosed with in 2008. The event was started by health care providers in the Sarcoma Clinic of the University of Michigan Comprehensive Cancer Center.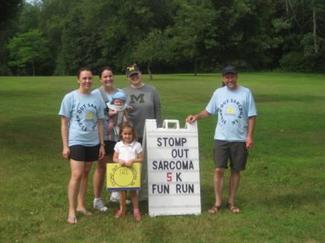 Courtesy photo
Nemec, now 49, has received five different types of chemotherapy treatments and four rounds of radiation since her diagnosis.
"My primary site was in my neck and I had surgery in 2009," said Nemec, who lost some use of one arm. Her cancer metastasized to her hip and lung.
She has participated in the walk/run in a wheelchair because the treatments left her short of breath. She has had most of her treatments at the Mayo Clinic in Rochester, Minn.
"My family has been very supportive and helped me get through it," said Nemec. "This last year I've been pretty stable."
Sarcomas make up 1 percent of all adult cancers and 15 percent to 20 percent of cancers in children and young adults.
"Very few people have sarcoma so it doesn't get a lot of attention when you talk about cancer research funding," said Teresa Fulk, Nemec's daughter. "We want to raise money to find medicines that work and eventually a cure."
The Nemec family started a nonprofit called FIghting Against Sarcoma Together (FAST) and say that all money raised from the run/walk will go to the U-M Sarcoma Clinical Research Fund.
Participants can register in advance by going to www.sarcomafighters.org or can register the morning of the event beginning at 8 a.m.
To donate money to sarcoma cancer research, go to http://stompoutsarcoma.kintera.org/faf/home/default.asp?ievent=1025850#.