Posted on
Sun, Aug 15, 2010 : 9:30 a.m.
Ypsilanti Heritage Festival to honor area autoworkers
By Tom Perkins
Months before landing a job at General Motors' Willow Run plant in 1978, John Delcamp and a friend grabbed a banjo and guitars and got involved at the ground floor with a new festival celebrating Ypsilanti's history.
The Ypsilanti Yesteryear Heritage Festival launched in 1978 with Delcamp as one of the original performers, and it quickly grew into a much-anticipated late summer event drawing thousands of visitors annually. Several years later, the name was shortened to the Ypsilanti Heritage Festival, and Delcamp took on his role as the host of the festival's popular children's talent show.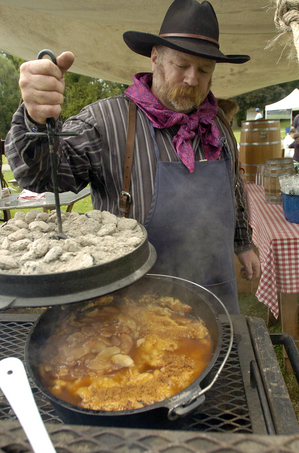 Lon Horwedel | AnnArbor.com
This year, Heritage Festival organizers are celebrating those like Delcamp who worked in either the General Motors' Assembly Plant or the Hydra-Matic Plant and helped shape the area into what it is today.
Delcamp spent 31 years with GM before retiring last year, as a skilled tradesman. When he began he was one of nearly 14,000 employees, and when he retired he was one of the remaining 600 in the Willow Run transmission plant.
The plant is scheduled to close in December, and Delcamp says he is pleased its workers are receiving recognition for their contribution to the community.
"I think it's what this town is," he says. "The facility was built there to build bombers in 1942, the plant is finally closing on December 1 and it has been occupied continuously. It has employed many, many people since it opened and contributed millions and millions of dollars to the local economy."
Every year the Heritage Festival lineup is packed with all variety of fun, and this year will also feature several auto-industry related events. Serving as the grand marshals of the 32nd Annual Parade are George Collier and Ray Bailey, chairs of the retiree committees for UAW Local 1776 and Local 735, respectively.
The parade starts at Michigan Avenue and Ballard Street and winds around to North Huron and Cross Streets. There volunteers from Local 735 are setting up the GM Hospitality Tent, where, among other activities, festival-goers can sign up to test drive a new 2010 GM car.
As it is the Heritage Festival, a vintage GM car show curated by Jack Miller of the Ypsilanti Automotive Heritage Museum will be on display all weekend.
Miller said the nine GM cars are representative of the post war years, and many of them were models assembled in Willow Run. Among them are a '74 GTO, '52 Chevy, Cadillac Eldorado convertible and '58 Oldsmobile, which Norris described as looking like a jukebox.
"Each one of them has a little history or pedigree to it," he said. "They'll stand out."
Lynda Hummel, co-coordinator of the Heritage Festival, explained organizers developed a mission in the last year to "annually celebrate the Ypsilanti history and heritage created by the independence, hard work, individual expression and unity that are the core of the people in the community, past, present and future."
That effort was part of a brand overhaul through a collaboration with Eastern Michigan University marketing graduate students. That partnership also yielded the "I Am Ypsilanti" marketing campaign and the Heritage Festival's focus on a group of residents "who are Ypsilanti". Hummel explained the time was right to honor the area's auto workers with the GM plant's closure on the horizon and the retirees of local 1776 aging.
"Clearly our community has a deep, rich automotive history from the beginning with the bomber plant," Hummel said.
Bailey said he appreciates the recognition the autoworkers are receiving.
"They need honoring. They were the backbone of this state and area for years," he said.
The weekend will also see all the perennial favorites. The rubber duck race gets underway at 5 p.m. on Sunday on the Cross Street bridge, and the 5 - 10 kilometer "Running the Rails" walk or run starts at 8:10 a.m. in Depot Town.
The Bomber Restaurant sponsors the hot dog eating contest Saturday at 5 p.m. in Depot Town, and Haab's will host the second annual bed race through downtown Ypsilanti at 11:30 a.m. on Saturday. The beautiful baby contest runs all weekend long until 2 p.m. on Sunday in the children's village.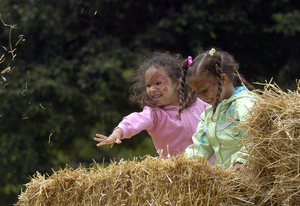 Lon Horwedel | AnnArbor.com
Hundreds of booths will line the pathways through Riverside Park offering everything from crafts to clothing, and all of Ypsilanti's shops and stores will have their doors open.
Ypsilanti's restaurants will be ready to feed the nearly 100,000 expected visitors who can also choose from dozens of food vendors in the parks. Live music is scheduled all weekend and the Riverside Beer Garden and Gaming Tent will provide alcohol and games of Black Jack and Texas Hold 'Em.
And, of course, there's the children's talent show, run by Delcamp. It starts at 2 p.m. on Saturday at the Frog Island Amphitheater.
Delcamp describes it as "Like American Idol, but a little more downscale". Each contestant goes home with a prize and range in age from 3 to 14.
"It's always tremendous fun and great to see these kids get up here," he says. "You never know what's going to happen. It's always wide open and there's always the cuteness factor."