Posted on
Fri, Feb 5, 2010 : 5:54 a.m.
Ypsilanti resident files complaint over new police chief's relationship with officer
By Tom Perkins
Ypsilanti's labor attorney has been asked to weigh in after a city resident filed a complaint over the new police chief's relationship with an officer in the department.
The issue surfaced at the City Council meeting this week when Mayor Pro Tem Trudy Swanson-Winston presented a letter from resident Megan Turf. In the letter, Turf questioned why Lt. Amy Walker was promoted to chief since she is in a relationship with someone in the workplace.
The letter identified the officer as Jill Kulhanek. Winston said the relationship could create obvious problems for the city.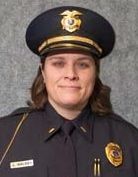 "These things have to be looked at," she said. "Are we setting ourselves up for some kind of action here?"
She asked City Manager Ed Koryzno, who appointed Walker in December, whether he had considered the possible fallout from hiring someone who is in a relationship with another member of the department.
Koryzno said he was aware of the relationship before the promotion, but didn't believe it would affect Walker's performance. He said he recently asked the city's labor attorney to issue an opinion, which is expected within two weeks.
Winston continued to question why Walker was hired without more consideration of that relationship, but Koryzno declined to comment further.
"These are serious allegations made by a resident, and we need to wait until the labor attorney has rendered an opinion in the next week or two," he said.
Walker declined to comment Thursday, saying she hasn't seen Turf's letter.
"My focus is on the community and to protect and serve the community with dedication, integrity and compassion," Walker said.
Tom Perkins is a freelance writer for AnnArbor.com. Reach the news desk at news@annarbor.com or 734-623-2530.