Posted on
Fri, Feb 8, 2013 : 10:02 a.m.
Celebrate Girl Scout Cookie Day; Ann Arbor Chinese Center celebrates Chinese New Year
By AnnArbor.com Staff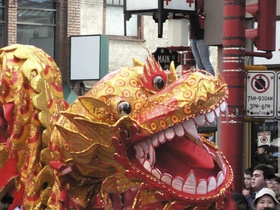 Photo courtesy of Flickr user ahsigett
From the annual African American Read In at the Ypsilanti District Library to a celebration of the Chinese New Year in Ann Arbor, here's a roundup of some of the stories posted on AnnArbor.com's Community Wall this week:
By: Donna DeButts: 9th Annual African American Read In Comes to the Ypsilanti District Library
The Ypsilanti District Library is pleased to host the ninth annual Ypsilanti Community African American Read In, part of a national effort celebrating African American literacy and authors, on Sunday, February 10.
By: Frances Kai-Hwa Wang: Ann Arbor Chinese Center of Michigan's Chinese New Year's Celebration 2013
There will be children's games and crafts (1:00-3:00 pm), and children's performances by students (3:00-6:00 pm) including a colorful lion dance; traditional Chinese instruments; dangerous kung fu (martial arts); graceful Taiwan ribbon dancers; spectacular Chinese Yo-Yo stunts; and Chinese New Year's stories, songs, rhymes, skits, videos.
By: Walt Wyderko: Join Ypsilanti American Little League Baseball 2013 !
By: J.C. Parikh: Celebrate National Girl Scout Cookie Day
By: Tanya: Spice up your love life this Valentine's Day with SafetyGirl!
By: Janis Williamson: American Business Women's Association - Maia Chapter
By: Ann Arbor Thrift Shop: AA Thrift Shop Invites Grant Applications
By: Alumni Association of the University of Michigan: Career 360: Networking Events With U-M Alumni Business Leaders
By: setsyfly: Opening Thursday Evening, Feb. 7... A Show Nobody Knows
AnnArbor.com's Community Wall is a spot for local people to post local stories, news and announcements. To post a story, sign in to AnnArbor.com, then go to www.annarbor.com/community and use the Got News? Tell Us function at the top to submit your news. If you have a photo to add, e-mail it to us at community@annarbor.com, and we'll insert it into your story.