Posted on
Fri, Nov 16, 2012 : 9:32 a.m.
Ypsilanti library presents free Joe Reilly Concert Nov. 18; Dexter church hosts talk on how to support veterans
By AnnArbor.com Staff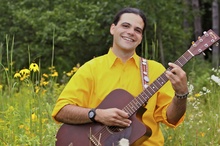 Photo courtesy of Joe Reilly
From a free kid-friendly concert at the Whittaker Road branch of the Ypsilanti District Library to a talk in Dexter about supporting veterans with PTSD, here's a roundup of some of the stories posted on AnnArbor.com's Community Wall this week:
By: Donna DeButts: Ypsilanti District Library Presents Joe Reilly in Concert
The Ypsilanti District Library is pleased to present singer/songwriter Joe Reilly on Sunday, November 18 from 2:00-3:30 pm at YDL-Whittaker, 5577 Whittaker Road.
By: Jean Klark: Supporting Our Troops and Their Families
Chaplain Larry Vollink, M.Div, of the Veterans Administration Hospital in Ann Arbor and Past National Chaplain of The American Legion will be speaking at Dexter UMC on Wednesday, November 28, 7:00 p.m. on "Spiritual Battles Facing Post Traumatic Stress Disorder (PTSD) Military Veterans."
By: kris kringle: wow!!! its 2012 and the mayan calendar signifies the end of the dark ages forever!!!
By: Ann Arbor Jaycees: Thank you for supporting the first Haunted Halloween Bash!
By: Janet Hawkins: New WCC Veterans Center Opens Nov. 12 and WCC Winter Registration Begins Nov. 14
By: Amit Kshirsagar: A different kind of Article - History of Starbucks Coffee.
By: Gary Collins II: My meeting with Randolph Mantooth!
By: Dawn Farm Education Series: "Intervention" -how to help someone addicted to alcohol/other drugs -
The Salvation Army Washtenaw: The Salvation Army of Washtenaw County to co-host free Thanksgiving Dinner Nov. 19
By: Friends of the Dexter District Library: Used Book Sale
Arbor.com's Community Wall is a spot for local people to post local stories, news and announcements. To post a story, sign in to AnnArbor.com, then go to www.annarbor.com/community and use the Got News? Tell Us function at the top to submit your news. If you have a photo to add, e-mail it to us at community@annarbor.com, and we'll insert it into your story.