Posted on
Fri, May 14, 2010 : 3:04 p.m.
Ypsilanti man charged with beating dog with hammer
By Lee Higgins
An arrest warrant has been issued for an Ypsilanti man accused of beating and injuring his 19-pound dog with a hammer on April 1, Washtenaw County Court records show.
Shawn Terell Moore, 27, who lives on Green Road, is charged with animal torture and animal cruelty, records show.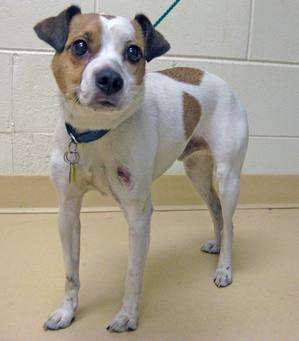 Photo courtesy of the Humane Society of Huron Valley
Moore, who is not in custody, could not be reached by AnnArbor.com today. If convicted, he faces up to four years in prison.
Ypsilanti police say Moore beat his Jack Russell Terrier mix, "Shadow," leaving him with cuts to his body, mouth and around his left eye. According to police, Moore told officers he was attempting to housebreak the roughly 18-month-old dog. It reportedly had an accident inside his apartment, police said.
Police say Moore gave that explanation after officers responded about 11:30 p.m. April 1 to a report that a man was kicking and beating a small white dog outside an apartment complex in the 800 block of Green Road.
Officers found the injured dog under a car and saw blood, a hammer and broom on the ground, police said. The dog was turned over to the Humane Society of Huron Valley. Moore had adopted it from the Humane Society several weeks earlier.
Matt Schaecher, supervisor of cruelty rescue for the Humane Society, could not be reached for comment today.
Lee Higgins covers crime and courts for AnnArbor.com. He can be reached by phone at (734) 623-2527 and email at leehiggins@annarbor.com.