Posted on
Sun, Sep 19, 2010 : 9:34 a.m.
Ypsilanti Mobile Village park to close due to 'despicable' conditions, leaving some residents with nowhere to go
By Tom Perkins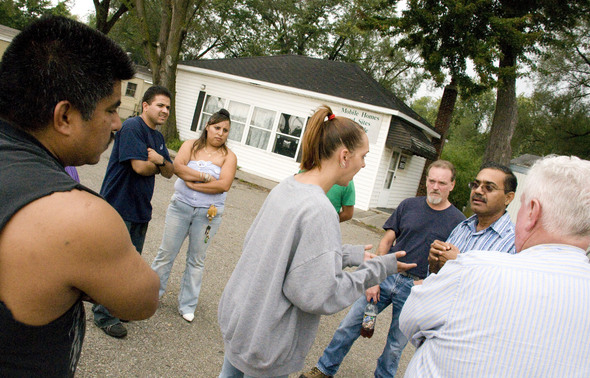 Tom Perkins | For AnnArbor.com
Angry questions and a few threats flew at Ypsilanti Mobile Village owner Dominic D'Mello after the he arrived for an unexpected visit on Thursday and was surrounded by residents.
"When is the park closing?" one asked.
"I may be 74 years old, but I would lay you out if all these people weren't here!" a man said.
"How long will we have to move out? And I don't like to be lied to!" another resident yelled.
The park on East Michigan Avenue in Ypsilanti Township has deteriorated into a blighted community in which live wires are left unattended, contaminated water seeped into the park's drinking water, sewage lines remain uncapped in the open and other hazards create dangerous conditions.
Because the situation has spiraled out of control and D'Mello doesn't have the funds to correct the problems, he's stated his intention to close the park. That means many of the low-to-no income residents will lose their mobile homes and have no place to go.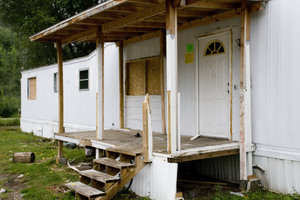 Tom Perkins | For AnnArbor.com
Residents say D'Mello doesn't return phone calls about the fate of their mobile homes and never visits the park. He arrived unexpectedly on Thursday to find township building inspectors there and an AnnArbor.com reporter interviewing residents.
Word of his arrival quickly spread throughout the park, and he was surrounded by a group of 20 angry residents demanding answers.
Residents are upset by how the park deteriorated into a condition that officials describe as "wretched and despicable." And township officials say they're concerned over how D'Mello will handle the park's closure and why conditions remain dangerous.
"If you didn't know any better and you were simply blindfolded and turned loose here, you would think you were in a third-world nation because of the conditions that are so deplorable. And it's sad, it really is," township attorney Doug Winters said.
D'Mello said he bought the property in 2004 for nearly $900,000 and still owes roughly $550,000. The park had 64 mobile homes in 2004; now 21 remain, of which seven are condemned.
Until 2008, D'Mello rented out some of the homes. Otherwise, residents own their mobile homes and lease the "pads" for $325 per month.
Photo courtesy of Ypsilanti Township
As conditions deteriorated between 2006 and 2008, the township took legal action against Cormello LLC, D'Mello's company, and Paramount Bank, which holds the park's loan, for numerous code violations.
In a complaint filed with Washtenaw County Circuit Court, the township cited numerous issues, including dilapidated mobile homes, debris such as appliances and garbage littering the park, residents illegally tapping utility lines, D'Mello allowing a resident to live in a condemned mobile home and general disrepair to the park's infrastructure.
The complaint also called the park a "haven" for prostitution and drug use.
A consent order signed in November 2008 by Judge Donald Shelton and attorneys for all parties sought to address the issues. D'Mello was to furnish titles and lease agreements for each mobile home, and he and park management were ordered to notify police upon learning of drug use or prostitution.
Most importantly, the township was to inspect each mobile home when a resident left or was evicted to ensure it was up to code. Since then, every mobile home the township inspected has been condemned.
As the number of renters decreased, D'Mello said he received less rent money, and the situation eventually became financially impossible. He added it's the owners' responsibility to keep their properties up to code, not his, so he couldn't be held responsible for what happened to the park.
Many residents told township officials they were in a "rent-to-own" arrangement with D'Mello until 2008, when the court ordered him to provide proof of ownership for each mobile home. Rent-to-own arrangements aren't permitted in mobile home parks. Once the consent judgment was signed, those residents became the owners of the mobile homes, officials say.
Mike Radzik, the township's director of the Office of Community Standards, said the accelerated rate at which residents left in recent months created serious issues. As D'Mello pulled condemned mobile homes from the park, he was supposed to terminate the electrical boxes that provided power to the units. But township inspectors found roughly 35 boxes with live wires sticking out of them or the ground on Aug. 26.
A DTE crew terminated power to the boxes on Aug. 27. Some residents were caught stealing electricity by connecting jumper cables to the boxes or using a garden hose as a conduit run through a hole drilled in a box, officials said. In one case, someone had rigged wires to steal electricity to power the Ypsilanti Mobile Village's streetlights.
D'Mello offered no explanation beyond denying the wires were live.
The park also failed to turn off water to the units that were removed. On Aug. 31, inspectors discovered two underground pipes broken and spewing water onto the pads of those mobile homes. The water gushed for 72 hours before the park shut it off. In that time, the park used more water than it does in a month, Radzik said.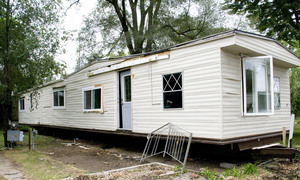 Tom Perkins | For AnnArbor.com
But after the pipes were turned off, standing water on the pads began to backflow down the pipes and into the park's drinking water. The Ypsilanti Community Utilities Authority requires "backflow prevention devices" on pipes, but the Ypsilanti Mobile Village doesn't use them, the township said.
Bill Elling, a building inspector for the township, went door-to-door warning residents of possible contamination. Elling said it was a full nine hours after D'Mello was aware of the problem that letters were distributed to residents.
D'Mello said he immediately told his manager to alert residents.
In addition, open sewage lines, which are supposed to be capped when a mobile home is removed, lie scattered throughout the park.
Township Building Director Ron Fulton said the serious nature of the issues prompted the township to send a letter to the Michigan State Department of Energy, Labor and Economic Growth's Building Division, which regulates and licenses mobile home parks.
The letter, dated Sept. 1, detailed the park's issues and was accompanied by 27 pictures showing the leaks, live wires, open sewage pipes and decaying mobile homes. The state sent a letter 10 days later to D'Mello asking him to respond.
"We do not make judgments about a complaint's validity until a response has been received and evaluated. Your answer will help us determine whether further action is warranted," the letter said.
Michigan Building Division Chief Larry Lehman said the department must follow the procedure by law. A serious complaint goes through an administrative hearing process that could take weeks to months, he said, adding more serious cases take priority.
Township officials questioned why the state hadn't revoked D'Mello's license after issuing the same violations in its annual evaluations. Radzik said the building division provides the park with a list of violations, but the park owner only must send a letter stating the problems have been addressed.
Lehman said the state now requires further evidence that problems have been fixed, such as photos or receipts. He also said repeat offenses must occur at the same unit — otherwise, they aren't counted as such.
"Somebody needs to get in a car and drive the 90 miles from Lansing and see firsthand what conditions they have allowed to exist in this township," Winters said. "It's a dereliction of duty, it's a horrible malfeasance in terms of how it was overlooked, and I don't you can find enough adjectives to describe the feelings the township has."
Residents have heard conflicting stories about when the park will close. Many residents — as well as township officials — were under the impression it would close last week.
Most residents who remain say they have nowhere to go and no means with which to move. Because many of the mobile homes are from the early 1960s or 1970s, they don't meet newer U.S. Housing and Urban Development codes and can't be moved into a new park. The park is shutting down, but they can't move their homes.
The township has been seeking the assistance of county social service agencies, but one of the prerequisites is proof of eviction or date of the park's closure, which no one has.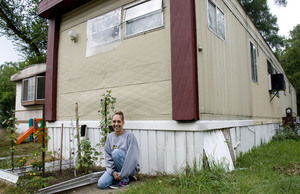 Tom Perkins | For AnnArbor.com
Nadine Roux is an unemployed 22-year old student and mother of two who invested $6,000 to fix up her mobile home with her father in 2007. She said she would get a hotel room if the park closed and is fearful her kids could be taken away if she can't provide a home.
"I'll be damned if my babies are going to get taken away because of a situation we're not in control of," she said, fighting back tears. "My kids deserve the best and me too, as a matter of fact."
Barbara Webster, an Ypsilanti Mobile Village resident of 18 years, said she and her husband are fortunate her daughter living in Hillsdale will help them move. But they'll also lose their mobile home, and Webster, who holds fond memories of life in the park until recent years, said they really don't want to leave.
D'Mello told residents Thursday it was the township forcing him to close the park, but then conceded the statement wasn't entirely true. The township is enforcing the stipulations of the consent judgment, and D'Mello can't afford to bring the park back up to code, he said.
When residents demanded to know when they could expect an eviction notice so they could seek moving assistance, D'Mello assured them he would work with his attorneys as quickly as possible to figure that out and a provide a date in writing.
"We're desperately trying to broker some kind of happy ending," Radzik said. "This is all unfolding as we speak, and one of my big fears is the owner shuts down, the utilities get shut off and we still have people in these trailers."
Tom Perkins is a freelance writer for AnnArbor.com. Reach the news desk at news@annarbor.com or 734-623-2530.