Posted on
Wed, Dec 30, 2009 : 6 a.m.
Ypsilanti woman nurtures children's creativity at the Fly Art Center
By Tom Perkins
Ruth Marks believes fostering kids' creative side is integral to their development, but after nine years of teaching art in public schools, she no longer felt how she was teaching was totally effective.
Thus, she quit her job and focused on a career as a professional sculptor.
But the lifelong Ypsilanti resident's love for kids led her to reconsider giving up teaching altogether. Through her small Ypsilanti nonprofit studio, Fly Art Center, she's once again nurturing children's creativity.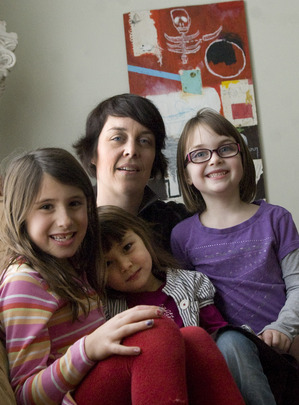 "I love working with kids," she said. "There's something really exciting about that 'a-ha' moment - they have that real pure joy and real pure expression that's fun to be around."
Fly Art currently resides in two homes - one at the Ypsilanti Community Center and as an after-school program at Chapelle Elementary through a partnership with Ypsilanti Public Schools.
"The bureaucracy of the schools sort of wore me out, so I moved away from teaching, but I missed the experience of working with the kids," Marks said. "Now, I can go to public schools and I'm coming in in kind of a sneaky way where I'm not being involved in the structure."
Classes are offered for children 3 to 10 years old and capped at 15 students. When students come into the class, they get a cafeteria tray, go down a line and pick supplies for projects ranging from painting to kinetic sculpture. Then it's time to create, and the kids choose what they want to make.
"I had one kid tell me 'When I came here I thought I was going to have to sit in a desk and do what I what I was told. This is better,'" Marks said. "So I was like 'OK! It worked!'"
Marks emphasizes the creative process more than the finished product, which she says keeps the kids more invested in what they're doing.
Fly Art, a name that is an acronym for "For the Love of Ypsilanti", offers kids projects that they might not see in a regular art class. The first eight weeks included jewelry, sewing, kinetic sculpture (marble chutes), painting and more. Marks said it is especially important in her partnership with Chapelle, because the kids don't get to do three-dimensional work in their art classes.
Evan Zalek, 6, of Ypsilanti, took classes at the Ypsilanti Community Center. He made a super hero, mobile and giant marble chute, and said he liked the class because he didn't have to make the same thing as everyone else.
"He had so much fun," said his mother, Ann Zalek. "And the projects that Ruth has them doing are so much different than in school."
The idea to start the center came last April when Marks was trying to figure out what really made her happy in her life. Through a discussion with her sister-in-law, she began to realize that she wanted to get back into teaching.
Originally, the plans were big, and Fly Art was to have its own building, but Marks opted to start out small. With support and guidance from Amy Summerton, who runs 826Michigan in Ann Arbor, she had a board of directors within months and began planning for the fall session.
"Ruth has a fantastic idea that will help kids, not just in Ypsilanti but throughout Washtenaw County," said Kayjay Miller, president of Fly Art's board of directors. "I think in the future we're going to need people who think creatively to work through problems."
January and February sessions include architecture, printing and capes and hats. Marks is considering adding a Saturday session. Otherwise new classes will be offered in March and April.
For those who can't wait until then, Marks has "to go" art kits for sale through her Web site and the Toledo Museum of Art.