Posted on
Wed, May 26, 2010 : 2:02 p.m.
Ypsilanti police still seeking suspected arsonist in Thompson Block fire
By Amalie Nash
A month after prosecutors levied charges, Ypsilanti police haven't been able to find a 21-year-old man suspected of starting the Thompson Block fire.
Jacob Robert-Andrew Popiolek is charged with arson of real property, a felony punishable by up to 10 years in prison.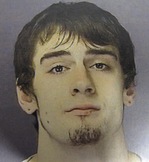 Detectives say Popiolek remains on the lam, and they haven't been able to find him.
Thus far, Popiolek is the only person charged in the fire, but police said they believe several people were trespassing in the Thompson Block building to smoke and drink when they sparked a fire that gutted much of the historic structure.
The fate of the building has been a source of debate and a pair of lawsuits since the Sept. 23 fire. Earlier this month, a Washtenaw County judge ordered the City of Ypsilanti and developer Stewart Beal to set up facilitation sessions in an effort to break a stalemate on how to proceed with the building.
The Thompson Block was under renovation when the fire started. Popiolek was long a suspect in the case.
Popiolek's last known address is in Ypsilanti, but police say he may have fled the area. He is white, 6 feet 3 inches tall, 160 pounds and has brown hair and brown eyes.
Anyone with information on his whereabouts or the case is asked to call Det. Jason Cyrbok at 734-482-9872 or the main line at 734-483-9510.