Posted on
Tue, Jan 19, 2010 : 6:05 a.m.
Ypsilanti Public Schools considers 2 plans that close schools
By Tom Perkins
Ypsilanti Public Schools is considering two plans that each include closing two schools.
The district presented the plans to the public last week during a community workshop to seek feedback and will hold another meeting this Thursday.
The first option includes "repurposing" Adams and Chapelle Elementary Schools and moving those students into Erickson and Estabrook. One middle school would house fifth and sixth graders, while the other would hold grades seven and eight.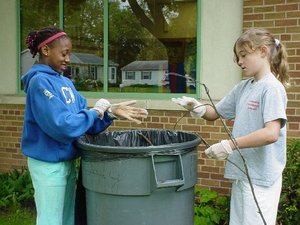 File photo
The second option would "repurpose" Chapelle and one middle school. Erickson and Estabrook would house grades two through six, Adams would have grades one through six and Perry would be used for pre-kindergarten through first grade. One middle school would remain for seventh and eighth grade students.
The high school would not be affected under either plan.
Opposition to the proposals is quickly mobilizing. But school board president David Bates said the current economic conditions, coupled with the recently defeated countywide enhancement millage, are forcing the district to make tough decisions to balance its budget.
"I certainly respect and understand that people don't want to see their neighborhood schools close, but we need to find a way to operate the schools in an effective manner with the money that is available," he said. "That's what we will find a way to do."
The district is faced with the task of cutting $6.4 million from its budget before the 2010 school year, and must follow the deficit elimination plan it recently submitted to the state. The board is aiming to make a decision on the closings by mid to late March.
The first option comes at an estimated savings of $968,000, while savings for the second is estimated at more than $1.3 million.
Superintendent Dedrick Martin said school closings aren't an ideal solution, but they're the type of measures necessary, given the situation.
"Closing schools is not something that we want to do, but the reality is we have to live within our economic means," he said.

Martin said neither of the options are definite. The purpose of the workshops is to solicit feedback from the community, he said.
Bates said district officials originally came up with six school closing scenarios, then presented what they thought were the best two to the community. He said after the board receives feedback, it could decide to present one of the other four options or try a different option altogether.
No matter what the feedback, Martin and Bates said school closures or repurposing are likely.
"To reach a figure like $6.4 million, we quite honestly have to look at things like closing buildings," Martin said.
The Chapelle Elementary Parent Advisory Board is calling an emergency meeting in advance of the Thursday evening workshop. It has also started a "Save Chapelle" Facebook page, is circulating a petition to keep Chapelle open and is developing its own ideas to present to the district on how to cut the budget without school closures.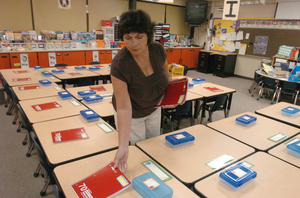 File photo
Maria Cotera, a member of the Chapelle PAB, said she believes neither of the models presented to the public will benefit the district, students or community. She said other options are available, and those presented will cause parents to move their kids out of the district.
"They're not thinking very creatively, and that's what the problem is," she said. "We have ideas that we think would be more attractive. If you look at the actual savings, even in the most draconian models … you still have a $5.1 million deficit. It's penny wise and pound foolish, and no one is going to want to send their kids here in those models."
Cotera added the diversity of schools people can send their kids to is what makes the district attractive.
"No neighborhood schools should be closed because that's the only way we can give parents the variety they need," she said. "The kind of students they want to attract aren't going to be attracted to a model with a large school - we have this broad variety of schools. We value small schools, we value larger schools."
Cotera also questioned why all schools, including Perry, aren't on the table. Bates and Martin said several factors go into choosing which schools close, including size, proximity and how new a building is.
"Regardless of the decision we make as a district, we know it will impact students and families," Martin said. "We will do our best not to negatively impact our families, but our economic realities mean that we need to make these cuts."
The next budget workshop is at 7 p.m. at the Perry Child Development Center.
Tom Perkins is a freelance writer for AnnArbor.com. Reach the news desk at news@annarbor.com or 734-623-2530.