Posted on
Tue, Apr 27, 2010 : 5:24 a.m.
Ypsilanti school board agrees to hire new high school principal
By Tom Perkins
Ypsilanti High School will have a new principal next year.
The school board voted 4-3 at Monday night's meeting to approve hiring Justin Moore, the current principal at Centennial High School in the Champaign, Ill. Unit 4 School District.
That district is the former home of first-year Ypsilanti Superintendent Dedrick Martin, which raised questions of nepotism prior to the meeting. The vote came after board members voiced concerns over Moore's qualifications, the hiring process, his salary and why current principal Jon Brown couldn't be retained.
"I feel that this is the right move," Martin said. "I think Mr. Brown has done a fabulous job laying down a foundation and changing the culture of the high school, and I am not looking to discredit that."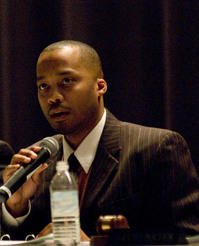 Prior to serving as Centennial's principal, Moore was an assistant principal and dean of students at Lincoln Park High School in Chicago. A dean of students position is considered an administrative post in Illinois.
Trustee Andy Fanta said he researched Moore through calls to Champiagn Unit 4 school board members, district representatives and newspaper articles. Fanta's findings led him to voice concern over Moore's level of experience and minimal progress in student achievement at Centennial, from which he resigned after 18 months.
Fanta said the two board members he spoke with reported Moore was not experienced enough to do the job.
"I'm perplexed by why we would bring someone in that would need experience and to use our flagship school in our district - the one that everyone focuses on - as a training ground for an individual," Fanta said.
Fanta also said statistics he was provided showed Centennial was "radically different" than Ypsilanti High in terms of socioeconomics, a point Martin disputed based on his own experience in the district.
Fanta further questioned how much progress Centennial High School had made academically and in testing. The school did not make Adequate Yearly Progress last year, although district officials confirmed improvements were made in state achievement tests and academics in a phone interview with AnnArbor.com last week.
Fanta also said he didn't have enough information about the circumstances of Moore's resignation, which came within months of an administrative restructuring at the school.
"This man was not successful in his term leading Centennial High school, which is the flagship high school in Champaign," he said. "They've replaced the whole leadership staff at Centennial High School, so why would we do this?"
Vice President Linda Horne said she felt Moore showed some strengths and achieved some improvements during his tenure at Centennial.
"I think this young man deserves an opportunity," she said. "I do think he can continue to do what Mr. Brown has done, and I think he can take this school to a new level."
Martin defended Moore and said he quickly fell victim to a "smear campaign" by some in the Champaign community.
He countered that while the test score gains were not "astronomical," and not enough to make AYP, the student scores in all categories saw improvements. Moore's resume notes students averaged a three-point gain in math, reading and overall composite on the Illinois Prarie State Achievement Exam.
Martin also said grade averages rose during Moore's tenure at Centennial among minorities - from an F to C average. He said the graduation and attendance rates also went up. Martin pointed to a 50-percent drop in referrals and suspensions for freshmen students in the 2008-09 school year.
Trustee Sarah Devaney questioned why the district is hiring a step six administrator at a salary of $99,400Â in tough economic times. She said the board just voted to lay off 19 teachers, and pointed out administrators are paid from "the same pot of money" as teachers.
"Where is the extra money coming from?" she asked. "I just don't understand that."
Devaney also asked why the human resources committee wasn't used during the hiring process for one of the most prominent positions in the district. She said few other school boards have an HR committee at their disposal.
"If we have one, why aren't we using it?" she asked. "I can't, in good faith, support this."
Board President David Bates said the board directed the superintendent to hire someone who can meet a set of goals, including discipline concerns and closing the achievement gap.
"To that end, he has to hire people who he thinks can get that job done for him … I really did like some of the things I saw about Mr. Moore," he said. 
Bates added questions over achievement during Moore's tenure at Centennial are valid, but he received answers from Martin that made him "comfortable."
The vote followed an outpouring of support from students and community members for Brown.
"I'd like to say as long as I've been in Ypsilanti schools, I've had great principals … But I've never felt more cared for as a student than when I came to this high school," YHS student Emma Swanson said.
Ypsilanti resident Kate Conat said the current scenario brought back memories of the hiring of Layne Hunt by previous Superintendent James Hawkins. Hunt's brief tenure caused controversy, resulting in his resignation within the school year.
"This smacks of cronyism," she said. "It's something we've experienced in the past that we don't need to experience again."
Hunt was replaced by Brown.
Trustee Edward Jackson said he'd like to retain Brown, but understood the district is locked into an agreement with the principals union requiring contract employees be laid off first.
Martin acknowledged they could keep a contract employee aboard but said, "I think there are some challenges we could face if we do that."
Martin previously told AnnArbor.com it wouldn't be fair to keep higher profile contract employees and let go those who aren't as visible.
During public comment after the five-hour meeting, Ypsilanti Education Association president Kelly Powers clarified that the teachers union has a similar contract to that of the principals union. But because the district is laying off teachers and not administrators, Brown was not contractually required to leave, she said.
Powers also told the board the union was not fully part of the hiring process. She previously explained to AnnArbor.com that she was notified late for the first round of interviews and missed most of Moore's interview, as well as the second round of interviews.
The four yes votes came from Bates, Horne, Jackson and Trustee Floyd Brumfield. Fanta, Devaney and Trustee Kira Berman voted no.
Moore received his bachelor's of science in secondary education from Southern Illinois University at Carbondale in May 1999. He received his master's of arts in educational leadership from Concordia University in Chicago in August 2006. Prior to his administrative role at Lincoln Park High School, he was a teacher in the same building for three years. He also taught for three years at Rantoul Township High School in Illinois.
Tom Perkins is a freelance writer for AnnArbor.com. Reach the news desk at news@annarbor.com or 734-623-2530.