Ypsilanti Public Schools receives accreditation, validation of reform efforts
Posted on Sun, May 13, 2012 : 4:34 p.m.
After a sobering start to last week, Ypsilanti Public Schools received some good news: YPS is now an accredited school district.
A team of five individuals from AdvancED, the world's largest educational network, visited Ypsilanti Monday through Wednesday last week and walked away validating what school leaders had hoped would be true.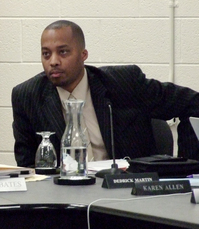 "From a practical level, this confirms to the staff that all of their hard work is not in vain," said Ypsilanti Superintendent
Dedrick Martin
. "We are actually putting in place the policies and procedures necessary to turn things around in a positive way."
According to the AdvancED website, accreditation is a voluntary method of quality assurance that was developed more than 100 years ago for universities and secondary schools in the United States as a way to distinguish those schools that adhered to a higher set of educational standards.
The process examines the entire academic institution — its leaders, programs, cultural context and community stakeholders — to determine how well the needs of students are being met, the website says.
The review team from AdvancED interviewed 181 people associated with Ypsilanti Public Schools, from board members to teachers and administrators, parents and students and the district's partners at the Washtenaw Intermediate School District and Eastern Michigan University.
Districts under review are rated on a scale from "not evident" to "emerging," "operational" and up to "highly functional" in seven categories.
Ypsilanti qualified as "operational" in: vision and purpose, governance and leadership, documenting and using data results, resources and support systems and stakeholder communications and relationships. It was deemed "emerging" in two categories: commitment to continuous improvement and teaching and learning.
"Amazingly, they rated us as 'operational' in more areas than we did," Martin said. "As much reform work as we are trying to do and as fast as we are trying to do it — with no budget — we sometimes get weighed down and forget to stop and recognize the progress we are making, which we need to do even when it seems like it is never enough."
He said it was "very uplifting" to hear the positive things the review team had to say about the district, especially after the harsh realities of Monday night, when the Board of Education approved its deficit elimination plan and discussed the possible tough cuts it would need to make in the future.
This was the first time YPS had gone out for accreditation. Martin said the district enrolled in the intensive process about a year ago. Prior to the site visit and the interviews, Ypsilanti had to submit an array of policies, procedures, student data and other documentation of practices within the district. It also completed a self-evaluation.
According to the AdanvcED website, the accreditation process itself is designed to help districts improve student achievement by increasing awareness and organizational habits within a district.
Martin said Ypsilanti actually tried to back out of the review because of everything the district had going on with the budget and deficit elimination plan. However, he said AdvancED would not let them off the hook.
There is a nominal cost in becoming accredited, he added.
The district received the positive results of the accreditation process during a special board meeting Wednesday before the quality assurance review team from AdvancED left.
"Receiving district-wide accreditation for the first time in the district's history is a sign and indicator that things can and will get better," Martin said.
Staff reporter Danielle Arndt covers K-12 education for AnnArbor.com. Follow her on Twitter @DanielleArndt or email her at daniellearndt@annarbor.com.