Posted on
Tue, Feb 9, 2010 : 6:05 p.m.
Ypsilanti school district releases redistribution plan for school closure options
By Tom Perkins
Ypsilanti Public Schools has released its plans for redistributing students and staff under two different school closure scenarios being considered.
The plans are both based on student enrollment projections for the 2010-11 school year. John Fulton, executive director of human resources, estimated the district will have 3,761 students next year - 50 fewer than this year.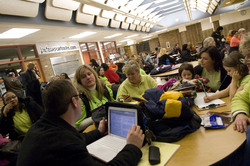 Under the first option, two elementary schools would close, which district officials have publicly confirmed are Adams and Chapelle.
Erickson and Estabrook elementary schools would remain open and house grades 1-4, with projected populations of 468 and 474, respectively. Erickson has a capacity of 525 students, and Estabrook can accommodate 550.
Perry Child Development Center's capacity is listed at 625 students and would contain 459 kindergarten and first-grade students in the first option.
The middle school grade structure would be reconfigured so one building housed grades 5-6 and the other had 7-8. The district projects 544 and 510 students in each building in option one - building capacities for the middle schools are 680 and 620 students.
Option one would allow the district to cut six teachers.
In the second option under consideration, one elementary school and one middle school would close - though the district has insisted no decision has been made on which elementary school is being considered.
The plan includes creating a K-6 building, along with two schools housing grades 2-6.
The K-6 building would have a population of 412 students, while the other two buildings would have populations of 508 and 509.
Although the district hasn't said Chapelle is slated for closure under the scenario, data it provided lists the school's capacity at 325 - meaning it couldn't accommodate the number of students required for redistribution. But district officials are adamant no decision has been made on which elementary school would be close in that scenario.
One middle school would close, and the remaining middle school would house 510 students in grades 7-8.
Option two would allow for the elimination of nine teachers.
Under both options, the student-to-teacher ratio at Perry would be 24 to 1. According to a district contract, kindergarten classes are required to have a ratio of 23 to 1, but the school-wide ratio includes averages with the first-grade classes.
Ratios in the elementary and middle schools would average 28 to 1 and 30 to 1, respectively.
The teacher-to-student ratio at the K-6 elementary school in option two would be 27 to 1, while it would average 28 to 1 at the other two elementaries. The middle school and high school will both have ratios of 30 to 1.
Board President David Bates said he'd like to see how redistribution would look in other options under consideration, including one in which Estabrook would be a 5-6 school and one middle school would be closed.
Bates said he doesn't know what the fourth option being explored by administrators looks like. He added he'd like to see Monday's presentation again, but with building capacity information.
"Having the numbers provided last night does not make me feel any more confident," he said. "The concerns I raised have to do with building capacities. We need to leave room for growth in our buildings and work for that growth. If we don't leave room for that growth, what are trying to accomplish?"
Trustee Kira Berman said the presentation helped in some ways.
"The presentation helped me understand in a more concrete way how our population might fit into those configurations, but there are other considerations when you think about closing schools in general," she said.
Berman encouraged the community to develop and submit suggestions.
"The more ideas we generate, the more creativity that we see, the wider range of options we have to choose from in terms of making decisions for the district," she said. "I think the creativity of the community is fundamental."
Tom Perkins is a freelance writer for AnnArbor.com. Reach the news desk at news@annarbor.com or 734-623-2530.