Posted on
Tue, Nov 24, 2009 : 6:05 a.m.
Ypsilanti area sees recent spike in car thefts, police say
By Tom Perkins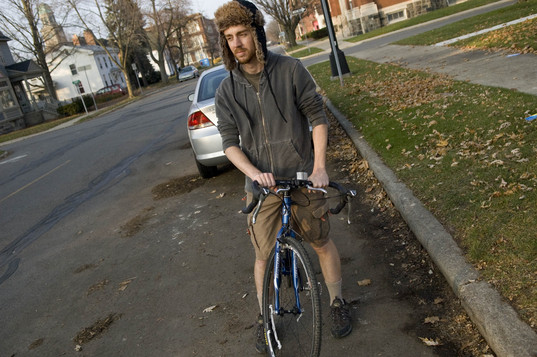 Dwight Van Tuyl left his Ypsilanti apartment around noon on Nov. 7 to discover his car, parked near the corner of Washington and Emmet streets the night before, was gone.
After checking with area tow companies, he called Ypsilanti Police and confirmed what he suspected - his 2000 Honda Civic had been stolen.
Van Tuyl's car was one of 15 auto thefts in Ypsilanti and Ypsilanti Township in the first half of November, and police are investigating three more potential cases.
Ypsilanti and Ypsilanti Township together saw an average of one car theft every other day in 2008.
That rate has doubled this month, and was slightly higher at 20 cars for the month of October. The cars are largely stolen on weekends.
"There has definitely been a big increase in the number of vehicle thefts this month," Washtenaw County Sheriff Cmdr. Dieter Heren said.
Van Tuyl's Civic eventually surfaced -- completely stripped -- on a street in Detroit on Thursday.
"I've lived here for over 10 years and never had anything stolen from me," he said. "I'm definitely a little more paranoid now."
Washtenaw County Sheriff's Detective Steve Wallen, who is with the auto theft unit, said two types of thefts are common in the city and township.
One is seen with older model cars like Van Tuyl's, which are targeted by small-time gangs from Detroit. Because newer model cars have computer chips built into their keys, it's impossible to steal them without the original key.
But keys can be cut with portable key cutters for the bulk of cars made before 2005. Thieves walk up to a vehicle, look at the VIN on the dashboard, dial it into the cutter and cut a key that will start the car on the spot.
The older model cars are also susceptible to having a screwdriver jammed in the ignition to start it.
As was the case with Van Tuyl's Civic, there is usually no broken glass around a car in this type of theft.
"These are the people who are making the big money," Wallen said. "They aren't just driving it around the corner in Washtenaw County, they're going down to Detroit and retagging the cars."
Once in Detroit, the titles are "washed" and the car "cloned." Ownership of a car can easily be transferred in Michigan by forging a signature on the title, and a fake VIN tag with the number of a car of the same make and model in a different state will replace the VIN tag on the stolen car.
"These guys know what they're doing," Wallen said. "They are getting more sophisticated."
Once a car is cloned - its title washed and altered to match the VIN tag - it looks perfectly legal, even to a police officer.
"If you were an officer behind the car on a traffic stop, the VIN matches, so you'd be like 'Oh, that car is good to go,'" Wallen said.
Wallen said the people stealing the cars are usually drug addicts who receive roughly $500 per job, which complicates efforts to arrest those ordering the thefts.
In one recent case, the auto theft unit arrested a young woman who admitted she owed a gang a substantial drug debt and was forced to steal cars to pay it off. She is currently in jail and refuses to reveal the gang leaders' identities, police said.
"More than likely we aren't going to get someone to squeal because they are too scared," Wallen said.
Drugs are also the motivating factor behind the second and more common type of theft reported in Ypsilanti Township.
In this scenario, a person addicted to crack who is driving a car owned by a parent or significant other will trade the cars for drugs. When the person who owns the car discovers it's missing, he or she contacts police, and the person who traded it plays dumb.
"These have nothing to do with making money," Wallen said. "It's just that someone wants a rock, and the drug dealer needs something to drive."
Wallen said the outcome of these cases can be frustrating. If it does come to light a family member traded or stole a car after the auto theft unit worked to recover it, oftentimes no one wants to press any charges.
Wallen said the Sheriff's Department auto theft unit is too small to run sting operations and works mostly in an investigative role. But because of the circumstances of many of the thefts, well over half the cars end up back with the owner.
Still, he advises residents to take precautions. Wallen said the best deterrent is "The Club," an anti-theft device that locks the steering wheel in place and is tough to saw through.
"If you can't steer a car, you can't go anywhere," he said.
Wallen also recommended global positioning systems, which allows officers to pinpoint what street a car is on. He said it's been his experience that car alarms are ineffective.
"How many times have you heard a car alarm going off and gone and turned up the TV?" he said.
Wallen also suggests keeping keys out of the hands of friends or relatives with substance abuse issues.
"Know who you're loaning your car to," he said. "Don't loan your nephew the car if you know they have a crack problem."
Tom Perkins is a freelance writer for AnnArbor.com. Reach the news desk at news@annarbor.com or 734-623-2530.