Ann Arbor and Ypsilanti to be featured in statewide promotional Pure Michigan campaign video
Posted on Fri, Aug 17, 2012 : 5:59 a.m.
Ann Arbor and Ypsilanti will be among the stars in a new statewide promotional video that will be part of the Pure Michigan tourism campaign.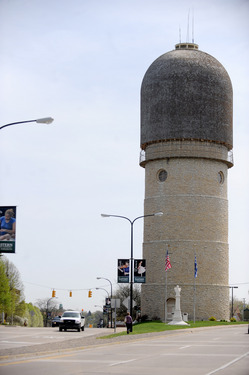 File photo
Status Creative, the same firm behind a Grand Rapids video, known as the
Grand Rapids LipDub
that went viral last year with 4.9 million views, will highlight each city, landmark and other "eye catching" things from around the state.
Ann Arbor and Ypsilanti are among 50 cities in the state to be featured.
Ann Arbor's filming will take place at Michigan Stadium Aug. 22 and will feature the University of Michigan Marching Band and cheerleaders.
The Ypsilanti portion of the video will showase the historic water tower, Eastern Michigan University, the Michigan Firehouse Museum and other locations in a 5-10 second clip. And city residents can get in on the filming at the water tower on Aug. 22.
All ages are welcome to participate, said Christine Laughren, manager of marketing and communications for the Ypsilanti Area Convention and Visitors Bureau.
"They can just come and show up," she said. "It's going to be a flash-mob like celebration and there will be a party around the water tower."
Laughren said she believes the video will give the city a chance to showcase itself to a larger audience.
"I think Ypsilanti has a very tight-knit community feel and that's why I wanted to involve as many people as possible," Laughren said. "I think we're an outgoing community and when they asked me what represents Ypsilanti the first thing that came to mind was the water tower and the second was the people."
Laughren said a large crowd is expected. Estimates are not yet available.
"It sounds like it's going to be a big thing and hopefully we'll have a good turnout," she said. Residents interested in participating should arrive at the water tower at 2:30 p.m., Aug. 22. Organizers will begin rehearsal at that time and live shoots are scheduled to begin at 3:20 p.m. Shooting is expected to wrap up at around 4 p.m.
Further details regarding the time of the Ann Arbor filming were not immediately available.
The Pure Michigan seven-day road trip will start in Caseville Aug. 18 and wrap up in Harbor Springs on Aug. 25.
Rob Bliss, co founder of Status Creative, said the cities in the video were chosen based on their population and visibility.
Bliss said the point of the tour is to promote tourism and to make people aware of what's going on in the various parts of the state.
"It kind of gives us something to be proud of," Bliss said. "It gives us a rallying point of why the state is as great as it is.".
Here is the list of the 50 cities participating.