Posted on
Wed, Jun 2, 2010 : 6:03 a.m.
Ypsilanti Township condemns Liberty Square and orders residents to move
By Tom Perkins
Tom Perkins | For AnnArbor.com
Residents of Ypsilanti Township's Liberty Square complex have 30 days to vacate their homes.
The township notified owners Tuesday that all properties in the 151-unit complex off Grove Road have been condemned.
Mike Radzik, director of the township's office of community standards, said the buildings have significantly deteriorated, and most of the exteriors are in violation of multiple codes. Among other problems are leaking roofs, mold infestations, a wall hit by a car, broken windows and deteriorating soffits and facades, he said.
"The nuisance needs to be abated by rehabilitation or demolition," Radzik said. "It cannot continue the way it is. We intend to work cooperatively with every other agency that has a stake in this, but it can't remain as is."
Tom Perkins | For AnnArbor.com
The township Board of Trustees authorized attorney Doug Winters to take legal action against non-compliant owners. But Radzik said legal action - and efforts to rehabilitate the property - is complicated by the ownership arrangement at the complex.
Each building in Liberty Square has 10 to 12 individually owned townhouses. Radzik estimated the complex at 20 percent occupancy. He said about 3 percent are owner-occupied, while the rest are rental units.
The Washtenaw County Treasurer's Office owns 63 units, which it took over after Grove Park Homes LLC foreclosed on the properties in April. Prior to that, Grove Park Homes owned 81 properties.
The foreclosed properties will be sold by the county Treasurer's Office at a public auction in July.
Grove Park Homes is owned by Glenda Ault, whose husband, Joe Koenig, is an employee of the company. Koenig is the resident agent for the Grove Park Home Improvement Association, the complex's governing body, which owns 25 units. The bulk of the remaining properties are owned by individuals.
Should the township file a lawsuit, Radzik said it would likely sue the homeowners association and some of the individual owners. The Treasurer's Office could also be named a defendant.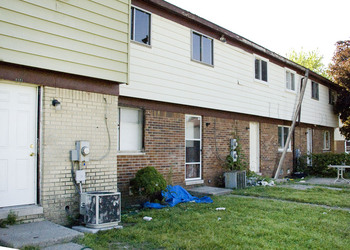 Tom Perkins | For AnnArbor.com
Koenig said the homeowners association has spent near $200,000 on new roofs in recent years, and the complex has seen significant improvements since he got involved with its management five years ago.
"I'm appalled that the township would do this," Koenig said. "To say we have done nothing is irresponsible on their part. I agree with them that these things need to be done, but the way they are going about it is totally inappropriate."
Radzik said the interiors of the townhouses that the county took over from Grove Park Homes have been stripped of all scrap metal, furnaces and water heaters. A study by the Washtenaw County Office of Community Development estimated rehabilitating the units at a cost of $75,000 to $80,000 each. The assessed value of the properties ranges from $3,000 to $8,000.
Township officials said they don't believe the homeowners association has the money to bring the townhouses up to code.
Koenig said the county is refusing to pay the $175 per month maintenance fees on its units and alleged the association is owed roughly $35,000.
"With that money we could pay for a lot of new roofs," Koenig said.
Winters said any reasonable solution will be considered, but the township has exhausted all other options.
"We keep running into the same issues," he said. "We're moving forward for the health, safety and welfare of the township as a whole. We've done all we can do socially, legally and building-wise, and I don't think the township has left any stone unturned."
Tom Perkins | For AnnArbor.com
Carolyn Chadwick is one of the owner-occupants who has lived in Liberty Square for 30 years. She said she partly blames the township for not doing more to remedy the situation earlier, and also blames Koenig for Liberty Square's current state.
She said Koenig and the homeowners association board's failure to abide by their own bylaws concerning the properties' maintenance has been "devastating to the community."
"I feel I'm a victim of this community," she said. "The board brought this whole complex down by not following their bylaws."
Several other residents said they didn't know where they would go and complained 30 days isn't enough time to find a new home. Legal Services of South Central Michigan and other organizations are working with the owners and renters left in the complex to assist with relocation.
Tommy Chadwick, Carolyn Chadwick's husband, said he simply refuses to leave his home.
"They will have to carry me out of here in handcuffs," he said.
Tom Perkins is a freelance writer for AnnArbor.com. Reach the news desk at news@annarbor.com or 734-623-2530.