Posted on
Wed, Mar 16, 2011 : 5:59 a.m.
Ypsilanti Township officials to ask courts for help with shopping center alleged to be structurally unsafe and mold infested
By Tom Perkins
Ypsilanti Township is asking a judge to declare several stores in the Gault Village Shopping Center public nuisances and prohibit their occupancy until the property's landlord completes major roof repairs.

Township attorneys are also asking the judge to order a section of the plaza formerly occupied by Kmart to be demolished.
Township attorneys alleged a long list of issues in a petition submitted in Circuit Court. Among them are severe roof leakage over the plaza's Value Foods store, potential fire hazards in Value Foods, a collapsing roof over the former Kmart, minor leaks in multiple units and mold infestation in several stores.

The shopping center is located on Emerick Street near Grove Road and I-94, and is owned by Sylvan Lake-based Union Lake Associates LLC. An attorney for Union Lake did not return calls from AnnArbor.com on Monday.
Washtenaw County Circuit Court Judge Donald Shelton granted an expedited emergency show cause hearing for today, and the Ypsilanti Township Board of Trustee approved the legal action at their Tuesday night meeting.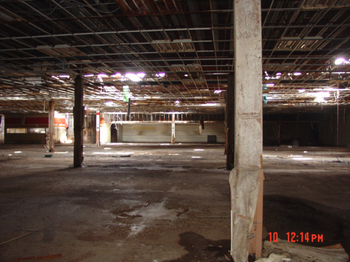 Photo courtesy of Ypsilanti Township
At the hearing, Shelton can grant part or all of the township's requests, or call for a later evidentiary hearing. The businesses listed in the verified petition include an ACO Hardware, Advance America, New Image Beauty Supply, Value Foods and Sam's Dollar Store.
"There are a whole litany of issues on that structure," Township Attorney Doug Winters said. "This shopping center has just been neglected for decades."
Township Building Director Ron Fulton said building inspectors visited the plaza on several occasions during rainy weather in early March. He said they found water "showering" through a hole in the Value Foods' roof and "it appeared to be raining harder inside the store than outside."
Township attorneys and Fulton provided photographs showing the extent of the issues as evidence. In the area where water was leaking in Value Foods, employees cordoned off the wet floor and shelves and removed food, but water continued to flood outside that area, Fulton said.
Building officials also found water leaking into light fixtures that weren't in use, and Fulton said a store manager told inspectors that the area couldn't be kept dry because of the rain's severity.
On March 9, Fulton posted public notice outside the Value Foods declaring it unsafe, a fire hazard and prohibiting occupancy, though the business remains open. The notice alerts the public that the township deems the building a danger, but it doesn't hold the weight of the law.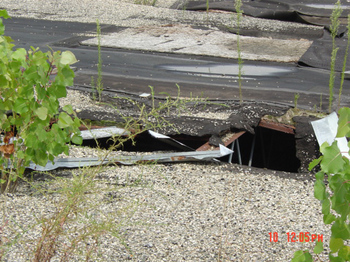 Photo Courtesy of Ypsilanti Township
"When I went in to conduct an inspection and nearly slipped on a wet, unmarked area, I decided enough was enough, that there was no way to allow the general public to walk in there without a warning," Fulton told the township board on Tuesday night.
In the verified petition, township attorneys state that the photographs depict "an unacceptable threat to the health, safety and welfare" of tenants, employees and the general public conducting business in the plaza. The verified petition continued that the roof is in "failure mode."
A Value Foods manager told AnnArbor.com on Monday afternoon that the area that has been cordoned off has been that way for years. He said the issues were nothing more than "common leaks" and added that he didn't believe the township should be intervening.
Fulton said inspectors also found mold growing throughout the plaza and on the wall of the business adjacent to the Kmart. That business, Measurement Inc., scores standardized tests for Michigan's schools. As of Monday, approximately 300 employees were expected to be working in the room when test scoring resumed after a break.
Fulton said the Kmart has been vacant for 10 years. During an inspection conducted with an administrative search warrant in August, building officials found the roof deteriorating and steel decking that supports it rusting and collapsing. They also found cracks in the outside wall.
Fulton said an agent from Union Lake verbally agreed to demolish the Kmart by Dec. 1, but no action was taken.
Township attorneys noted in the verified petition that some roof work had recently been performed, but they contend that the roof needs a full assessment from a structural engineer. The petition states that years of "woefully lacking" maintenance and an unacceptable "Band-Aid" approach to repairing the building led to the current conditions.