Posted on
Mon, Jan 2, 2012 : 5:58 a.m.
Sheriff's Department to move Ypsilanti Township operations to improve response times
By Tom Perkins
The Washtenaw County Sheriff's Department is making plans to move its Ypsilanti Township substation from the township hall to the former Whittaker Road Michigan State Police post.
The township and Sheriff's Department are also partially reopening the Holmes Road outpost, which closed two years ago amid budget cuts. The changes, officials say, will result in better and quicker police service.
"It will be a positive move just for the fact that there is more space at the State Police post and because it's a good, central location to move to different areas of the township rather quickly," Lt. Jim Anuszkiewicz said.
Anuszkiewicz said no agreement is in place yet, and officials from the Sheriff's Department and township are waiting on a lease agreement from the state. But Supervisor Brenda Stumbo said she expects that to arrive soon and is hopeful that the Sheriff's Department can move into the new post during the first quarter of 2012.
The State Police moved out of the post in October as the MSP consolidated to save money. Troopers are now based out of the Brighton Post, though there are outposts in Sylvan Township and Saline.
Stumbo said the township will likely take over the station for a nominal price and will in exchange allow at least four troopers to operate out of it, which is beneficial to both parties.
"The retention of State Police presence in the township is important," she said.
The post provides quicker access to Interstate 94, which provides a direct route to the township's northern and eastern neighborhoods. The current station is located on Huron River Drive and deputies must take an indirect route to get to the other side of Ford Lake. It's also tucked behind the township hall, and deputies have to drive around the hall and out a long driveway to get to Huron River Drive.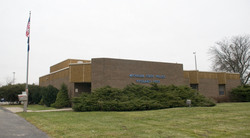 Tom Perkins | For AnnArbor.com
Mike Radzik, director of the township's police services, estimated the new location could shave a minute and a half off of response times.
"The station is currently south of the lake and south of the freeway," he said. "So when the deputies are here and they get calls anywhere other than south of the lake, they have to hit it hard just to get around the lake to get to Washtenaw Ave. or to get to the northern neighborhoods. I know it's just a short distance to the MSP post, but the access to Whittaker Road and being closer to I-94 cut down response times to those areas."
The MSP post also provides advantages in that at 9,000 square feet, it's much bigger than the current station and it was also built and designed in the 1970's to be a police station. The Sheriff's Department had to tailor the current station to meet their needs.
Radzik said that is important for officer safety. He cited an examples of a Milan officer who was killed outside his station as he was walking into work and a man walking into a Detroit Police station last year and opening fire on officers.
Stumbo said the township has already budgeted for maintenance and upkeep of the new facility, and Anuszkiewicz said the Sheriff's Department expects the arrangement will work financially, though some details have to be checked.
Radzik said there were no final plans on how the freed-up space in the township hall would be used, but said the 14-B District Court has space needs, as do several township departments.
The township will also partially reopen the Holmes Road outpost, which was closed in 2009 after budget cuts.
Officials say no deputies will operate full-time out of the station, but it will be a place where they can file reports, take care of administrative tasks, take suspects for questioning if a controlled environment is needed or take reports from victims.
Ultimately, it will cut down on deputies' travel time and make them more available for actual police work. That is important in a part of the township that sees a higher crime rate.
"The northern and eastern side of the townships tend to have a lot of calls for service and that's where deputies are a lot, so this is going to provide deputies an avenue to stay up in that area instead of leaving and going back and forth," Anuszkiewicz said.
"Having that station is going to keep deputies in their patrol area," Radzik said. "We except an increase in consistent police presence in the northern and eastern neighborhoods.
"We are really happy to be able to reopen it, even if it is on a scaled down basis."