Posted on
Wed, Aug 8, 2012 : 5:58 a.m.
Ypsilanti Township's administration defeats challengers by a wide margin
By Tom Perkins
Ypsilanti's three full-time elected officials retained their seats by wide margins against their challengers.
Supervisor Brenda Stumbo won a second term with 76.7 percent of the vote against Y-Town Future candidate John Hoops and challenger Brenda Meadows. She previously defeated Ruth Ann Jamnick for the office four years ago.
Jamnick, also a Y-Town candidate, lost in her bid to unseat incumbent Clerk Karen Lovejoy-Roe. Like Stumbo, Lovejoy-Roe also won all of the township's 20 precincts. The final vote count was 3,025-1,490, with Lovejoy-Roe winning 66.9 percent of the vote.
In the treasurer's race, incumbent Larry Doe defeated challenger and Y-Town Future candidate Larry Davis Jr with 60.5 percent of the votes. The final tally was 2,678-1,737.
With the exception of Meadows, the challengers were part of the Y-Town Future, a slate of 10 candidates running on the same message for Ypsilanti Township's administrative, trustee and park commission seats. None of Y-Town's trustee candidates or those seeking full-time office won seats.
All incumbent trustees in Ypsilanti Township also held onto their seats.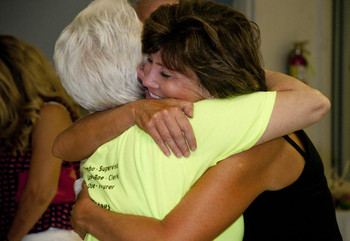 Tom Perkins | For AnnArbor.com
Throughout the campaign, incumbents highlighted that they had balanced the township's budget, despite a drop in revenues from the loss of General Motors Powertrain plant, and Stumbo said she thought fiscal responsibility played into voters' decision.
"We got the message across that we're conservative with taxpayers' dollars … and we see our residents as stakeholders," said Stumbo, who has served as an elected official in Ypsilanti Township for 24 years. "We're responsible to them and to provide services to them, and I think we've done that.
"This shows that our residents are satisfied with the services that they are provided and the management of their tax dollars."
Y-Town Future's message to voters was that the township leadership could have done more to attract new business to the area over the last four years and should have prevented the blight issues it now faces.
But incumbents touted their neighborhood stabilization program and pointed to the businesses that have expanded in or moved to Ypsilanti Township over the last four years.
Stumbo said there were never any specific issues brought to her or the Board of Trustees by residents or Y-Town Future candidates throughout the campaign.
"There was never anything specific," she said. "I think that, based on results, residents agree that we've done a good job the last four years."
Hoops, who was running for office for the first time, was appointed to the Ypsilanti Township Park Commission in 2011 and the Belleville DDA, of which he is now chair, in 2006. Hoops applied to be appointed to the township board of trustees to fill a vacancy in 2011, but he wasn't selected.
Stumbo also defeated Meadows, who is currently serving a term on the Willow Run Community Schools Board of the Education. Little was heard from Meadows' campaign in recent months.
Hoops said he and Y-Town Future worked hard and they were proud of what they had accomplished despite the defeat.
"It's not an easy job to go out there and go up against incumbents who have had a hardline tie to the community for so long," he said. "It was worth fighting for."
He said he thinks a lot of people don't know how the township's leadership operates and he was unaware until he started serving on the park commission.
"I think (residents are) fed a story and a line that they believe, and until they get inside and see numbers and the truth of what's going on, they refuse to believe it. And it's a sad state," Hoops said.
Roe was elected to a third term and defeated Jamnick, who was the only Y-Town Future candidate with any significant political experience. She served as township treasurer from 1976 to 1998 before representing the 54th district in the State House of Representatives from 1994 to 2004. She then served as Ypsilanti Township supervisor for four years.
Doe was elected to his fourth term by defeating Davis, who is a business owner in the City of Ypsilanti. It was Davis's first run at public office.
Hoops said the Y-Town Future candidates will continue to monitor the current leadership.
"We will be on guard and be watching the decisions made in the township - we're not walking away," he said.