Posted on
Thu, Apr 15, 2010 : 6:02 a.m.
Three Washtenaw County fire departments work on enhanced fire aid agreement
By Tom Perkins
Three Washtenaw County fire departments are moving forward with plans that could change the way emergency calls for service are handled in the future.
The increased cooperation - which officials say say lies between a mutual aid pact and functional fire district - is designed to maximize resources as several local fire departments see their ranks shrinking and their budgets stretched thin.
Chiefs from the Ann Arbor, Ypsilanti Township, and Ypsilanti fire departments will convene in the next week to discuss what Ypsilanti Township Fire Chief Eric Copeland described as a "modified mutual aid agreement."
Tom Perkins | For AnnArbor.com
The three departments met last month with their city managers and other officials to develop the framework of a modified agreement that's been in the works for several years.
Ypsilanti Fire Chief Jon Ichesco said the three chiefs must now agree on more specific procedures for operating under the new agreement, which will subsequently need the unions' stamp of approval.
Central to the effort is developing run cards to be entered into the computer-aided dispatch system at the Huron Valley Ambulance dispatch center, which handles calls for the departments. The mutual aid box alarm system, as it is called, is a matrix that helps dispatchers quickly determine which station with the proper resources - including personnel and type of truck - are closest to a fire.
Each station will develop run cards that list what type of personnel and equipment their station offers.
Currently, an incident commander at a scene makes the decision on when to call for mutual aid and what trucks and equipment are needed. Officials say the new system would be automatic once another alarm is hit, moving the proper equipment to a scene faster.
"The key component is cooperation," Copeland said. "We currently have that under the mutual aid format, but this is trying to make the response more automatic based on pre-selected packages, as opposed to it being an order issued by a commander on scene. It just happens automatically instead of looking for what's best for the next 20, 30 minutes."
The chiefs say collaboration will lead to significant cost reductions, although exact amounts won't be known until it's in place.
Ann Arbor Chief Dominick Lanza said his department may be able to avoid a $1 million expenditure to replace an aging aerial truck. The city currently has two aerial trucks, with one kept downtown and one in an outlying area of the city.
By having quick access to Ypsilanti or Ypsilanti Township's aerial trucks, a new aerial truck won't be needed, he said, noting the same goes for the other types of trucks.
"This way everybody doesn't have to own everything, so that's another saving," he said.
Ichesco said the current mutual aid system allows a fire to spread and endanger lives and property since the call for help isn't made until crews are on the scene. It also requires more manpower and equipment to bring the blaze under control once it has spread, he said.
"The slower you are getting there, the more resources you need," he said. "The sooner you get out there, the better off you are. These are really common sense ideas, but they can be spun a lot of different ways."
Ichesco and Copeland both pointed to a recent Detroit Free Press article on the failures of automatic aid pacts around metro Detroit. They say the new system would avoid those pitfalls.
Ichesco also said the modified agreement also should allay concerns that some departments are subsidizing others.
The chiefs all said their unions have expressed concerns over potential subsidization of their own departments by their neighbors. All three departments are in some form of labor negotiations that could require layoffs, buyouts or significant cuts.
"These agreements have to be calculated very carefully," Lanza said.
But some of the county's other full-time fire departments are declining to participate in the new fire system, including Pittsfield Township, Ann Arbor Township and Superior Township.
That makes the geography tougher since Ann Arbor and Ypsilanti are several miles apart - with Pittsfield Township in between on several routes between Ann Arbor and Ypsilanti Township.
Pittsfield Township Public Safety Director Matt Harshberger was unavailable for comment. But Ichesco said he remains hopeful Pittsfield Township will try test runs with the other three departments.
Ypsilanti Township nearly surrounds the city of Ypsilanti, so Copeland said he's concerned it wouldn't make sense to send a truck from Ann Arbor to the city of Ypsilanti and vice versa.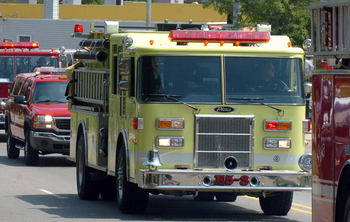 File photo
"It's those types of logistics, those type of scenarios have to be accounted for so that a collaborative pact would indeed be representative of the resources that are contained within that area," Copeland said. "But it's in the works."
Ichesco said Ann Arbor and Ypsilanti have timed runs back in forth in the past, and firefighters usually make it in less than eight minutes, which is recommended by the insurance industry.
Lanza said the departments also are exploring how to handle other duties, such as those of the three fire marshals and inspections.
Ichesco said the three departments will make adjustments where necessary after the agreement is in place.
"We just have to start doing it," Icesco said. "You can plan and strategize all you want, but until you get in situation, you don't know."
Lanza, who was part of a functional fire district in his old department in south Florida before recently taking over in Ann Arbor, said the arrangement is the best approach for residents' safety and the departments' budgets.
"I'm not saying its going to be easy, but I will say it can be done, and we're just looking to do what's best for the community," he said.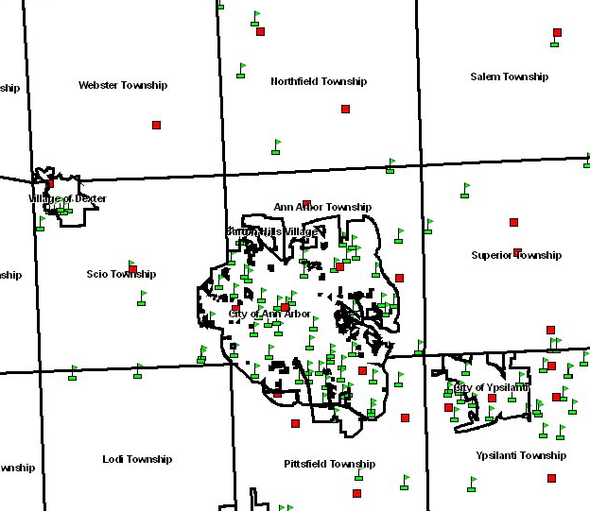 Tom Perkins is a freelance writer for AnnArbor.com. Reach the news desk at news@annarbor.com or 734-623-2530.