Posted on
Wed, Mar 20, 2013 : 6:34 p.m.
Driver killed in Ypsilanti Township crash
By John Counts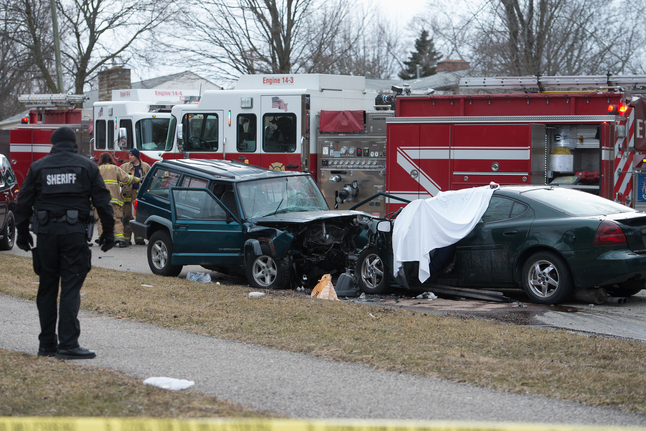 Courtney Sacco | AnnArbor.com
One driver was killed and the other taken to the hospital in unstable condition Wednesday evening after a head-on crash at North Hewitt Road and Valley Drive in Ypsilanti Township, officials confirmed.
Emergency crews were dispatched to the intersection for the crash at 6:09 p.m., said Joyce Williams with Huron Valley Ambulance. Williams confirmed that one of the drivers was fatally injured and the other driver was taken to St. Joseph Mercy Hospital in unstable condition.
Lt. Fred Anstead of the Ypsilanti Township Fire Department said the driver fatally injured was a woman and the driver transported was a man. No other information about either driver was immediately being released.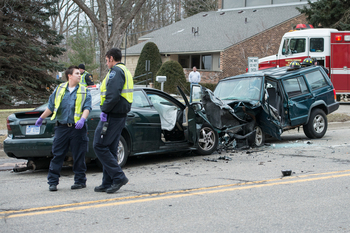 Courtney Sacco | AnnArbor.com
The man had to be extricated from his vehicle by the Jaws of Life and suffered multiple injuries in the head-on collision, Anstead said. There were no passengers in either vehicle, Anstead added.
The accident occurred on Hewitt just south of Valley Drive. The Washtenaw County Sheriff's Office issued an alert just after 7 p.m. stating that North Hewitt Road was closed due to the accident and motorists should avoid the area for several hours. Anstead said the sheriff's office is investigating the accident. Officials from the sheriff's office could not immediately be reached for information.
A 19-year-old Ypsilanti Township man died in a car accident near the same intersection last November.
It is the third fatal crash in Washtenaw County this week. On Friday, a 63-year-old Willis man died in an Augusta Township crash. Then on Monday morning, a 22-year-old Belleville man was killed on Old U.S. 12 near Chelsea.
John Counts covers cops and courts for AnnArbor.com. He can be reached at johncounts@annarbor.com or you can follow him on Twitter.