Posted on
Sat, Aug 24, 2013 : 11 a.m.
1/24 4th Marine Division to reunite Sunday in Ypsilanti Township
By Lisa Carolin
The Marines will be descending on the UAW Union Hall in Ypsilanti Township Sunday. Their mission: a reunion.
Detroit is the home of the 1st Battalion, 24th Marines, which includes companies from Detroit, Lansing, Saginaw, Grand Rapids and Perrysburg, Ohio. Sunday's event will honor the marines, and will take place at UAW Local 898 Union Hall on Textile Road in Ypsilanti Township.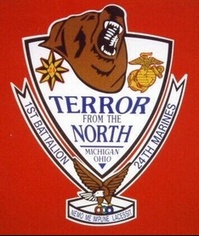 More than 110 marines and their families will attend the reunion, including those who served in Vietnam, Iraq and Afghanistan.
The mission of the 1/24 4th Marine Division, a.k.a. the Motown Marines, is to provide trained combat and combat support personnel and units to augment and reinforce troops in time of war and national emergency.
"Once a marine always a marine is a true statement," said Master Gunnery Sergeant Rick McWhirter, one of the hosts of the reunion. "This is about binding everybody back together."
McWhirter was in the Marine Corps for 30 years and says he has kept in touch with many of the people he served with.
"It's a small, band of brothers," he said.
Sunday's ceremony begins at 2 p.m. with a color guard, several speeches including Ypsilanti Township Supervisor Brenda Stumbo and the executive officer of the recruiting squad. A chaplain will lead a prayer for those marines who have died, followed by a 21-gun salute and the playing of taps.
McWhirter says the cutting of the Marine Corps cake will follow.
"We'll find out who the oldest marine there is and the youngest," said McWhirter. "The first piece of cake will go to the oldest, who will hand the next piece of cake to the youngest marine."
Organizers have been working since February to make the reunion happen.
"We have reached more than 300 marines through Facebook and by word of mouth," said organizer Stacey Egnor. "The marines attending range in age from their 20s to their 60s, and from majors to privates."
She says that marines will be coming from around the nation including Georgia, Kansas, Wisconsin and California to attend the reunion.
"You're going to see somebody you know," said McWhirter. "It's really good to see each other. There's a real fellowship."
The plan is to schedule another reunion in 2015.
For more information on the 1/24th Marines and the reunion, go to ONE24MarinesReunion.com.