Bridge Magazine:

14-year study reveals 'startling' impact of preschool on poor Michigan children

Posted on Tue, Jun 12, 2012 : 5:11 p.m.
A "first-of-its-kind" study shows that poor, at-risk children who attend public preschool programs have greater success than those who don't, according to a report by Bridge Magazine.
High Scope Educational Research Foundation in Ypsilanti conducted the study by following more than 500 Michigan children throughout the course of 14 years.
Bridge called the results "startling."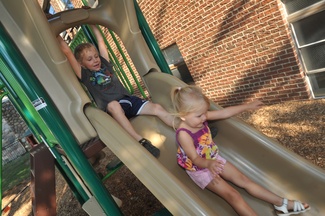 The study was used as ammo at Tuesday's
State Board of Education
meeting to campaign for increased funding for early childhood education programs in the state, such as
Great Start Readiness
,
according to Bridge
.
Bridge said the study followed 338 children from Detroit, Kalamazoo, Muskegon, Roscommon, Wyoming and St. Clair County who attended Great Start as 4-year-olds in 1995-96. It also followed 258 children from similar economic and cultural backgrounds who would have qualified for Great Start, which services poor and at-risk children, but did not attend any preschool program prior to kindergarten.
The study revealed the preschool attendees had higher scores on the fourth-grade Michigan Education Assessment Program (MEAP) exam, fewer were held back a grade and more graduated from high school on time than their non-preschool-attending peers.
The state spent $104 million in fiscal year 2012 on the Great Start Readiness program. Bridge Magazine said the state would need to double its investment in order to reach all qualifying low-income children. The Great Start program costs about $3,400 per student served, Bridge reported.
Read the complete story in Bridge Magazine.
Staff reporter Danielle Arndt covers K-12 education for AnnArbor.com. Follow her on Twitter @DanielleArndt or email her at daniellearndt@annarbor.com.