Posted on
Mon, Sep 17, 2012 : 3:30 p.m.
2 men held on $50,000 bond for alleged armed robbery outside Ypsilanti Township apartment
By Kyle Feldscher
An Ypsilanti man and a Belleville man are being held in jail on $50,000 bonds for allegedly robbing a man outside of the Lakeshore Apartments in Ypsilanti Township Friday.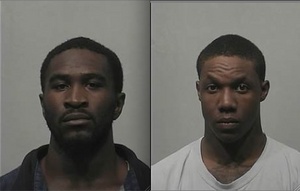 Courtesy of the Washtenaw County Sheriff's Office
Eddie Nailor, 20 years old from Ypsilanti, and Deandre Mitchell, 20 years old from Belleville, each face a charge of armed robbery and possession of a firearm during the commission of a felony, court records show. Sgt. Geoffrey Fox said the charges stem from an incident outside a building in the apartments.
Fox said a man went at 3:25 a.m. Friday to the apartments to meet someone and then hang out with a friend. After meeting a woman, the man went inside the apartments to see his friend, Fox said.
Shortly after going inside, the man got a call from the woman telling him she forgot to give him something and he needed to come back outside. The man walked out of the apartments and was confronted by Nailor and Mitchell, Fox said.
One of the men had a gun and demanded money. Fox said the victim emptied his pockets and the men fled the area.
Fox said sheriff's deputies made contact with the woman who called the victim outside and found Nailor and Mitchell in her apartment, where they were identified as the suspects. Police found money, cellphones and a handgun at the apartment, Fox said.
The woman is not facing criminal charges at this point but the investigation into the incident continues, Fox said.
Nailor and Mitchell are scheduled to be in court for a preliminary exam at 8:30 a.m. Sept. 25, according to jail records.
Kyle Feldscher covers cops and courts for AnnArbor.com. He can be reached at kylefeldscher@annarbor.com or you can follow him on Twitter.