Posted on
Thu, Jul 25, 2013 : 8:47 a.m.
3 millage increases, 1 renewal for core services will be on Ypsilanti Township's Aug. 6 ballot
By Tom Perkins
Comments from the Washtenaw County Sheriff's Department have been added to the story.
Ypsilanti Township residents will be asked to approve three millage increases at the polls on Aug. 6.
Without approval, township officials say residents would see deep cuts to public safety and core services.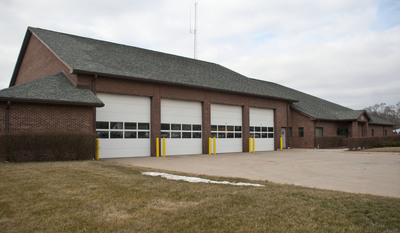 Tom Perkins | For AnnArbor.com
If all three are approved, homeowners would pay an additional combined 1.75 mills for fire protection, police protection and solid waste collection. That means a homeowner with a house with taxable value of $100,000 would annually pay an additional $175 in taxes if all three were passed.
The township's property values have dropped by 35 percent since 2007. At current rates, projections have the fire fund running a deficit of around $962,000 in 2017; the police fund running a deficit of $508,000 by 2015 and increasing to $3.1 million by 2017; and the solid waste fund running a deficit of $1.5 million by 2017.
"If the residents like the services, the number of police officers, composting, recycling, garbage collection, brush pickup, keeping all the fire stations open, then it's imperative that they vote yes on all the millage proposals," said Township Clerk Karen Lovejoy Roe.
Voters will be asked to approve millage increases of:
.325 mills for fire service, which would raise the millage to 3.125 mills and annually generate an additional estimated $370,671.
.950 mills for police protection, which would raise the millage to 5.95 mills and would annually generate an additional estimated $1,083,502.
.475 mill increase for garbage, refuse collection, recycling, composting, disposal of solid waste, energy conservation, alternative energy, water quality and environmental protection, which would increase the millage to 2.155 mills and annually generate an estimated $541,751.
Renew the roads millage which will not increase and is set at 1.0059 mills.
The $6.5 million revenue loss from the tax base largely has been offset by not filling 31 staff retirements at the township hall, and the township is operating with eight fewer firefighters and 11 fewer police officers than it had in 2007.
Township staff has not had a pay increase since 2008 and received a 3 percent pay reduction in 2009. All employees now make greater contributions to their pension and pay a monthly fee for health care.
In 2007, the last year of stable property values and stable revenues in Ypsilanti Township, a 1-mill tax rate generated $1,764,636. Today, a 1-mill tax rate generates $1,140,529.
The combined 5 mills for police protection would have generated $8,823,180 in 2007, but would only generate $5,702,645 in 2013 — a difference of $3,120,535.
Sheriff's Department spokesman Derrick Jackson highlighted that fewer officers does not mean fewer calls for service, but will mean fewer officers to respond to crime and a decreased response time.
He said the township has seen a decrease in major crime within Ypsilanti Township since the township was able to add several deputies in recent years, though police staffing numbers still remain below 2009 levels.
"That is directly related to the outstanding proactive work done by our deputies," he said. "Having fewer deputies on the road does not allow for proactive policing, but forces us to only be reactive. When you are reactive you are already failing the community because you need a victim to react to.
"We would prefer to prevent crime from happening, not respond after a resident has been victimized."
The numbers also allow the Sheriff's Department to focus resources on specific duties such as OWI enforcement, quality of life issues and prevention programs, Jackson said.
The fire department millage would have generated $4,940,980 but now only generates $3,193,481 — a difference of $1,747,499.
Ypsilanti Township Fire Chief Eric Copeland said the fire department has tightened its belt, reduced costs, got concessions from the union and streamlined its operation, but he said that can't make up for a loss of a third of the department's operating revenue.
"We need a boost of revenue but what we're asking for is modest. It isn't a cure all," Copeland said. "It doesn't solve the problem, but we also understand residents felt (the recession), too, so we aren't asking for the full increase, but just restore some of what we lost."
Lovejoy Roe said a failure of the millages would lead to "drastic, draconian cuts".
"It's not anything pleasant to ask for an increase, but we're doing what needs to be done, and as leaders of the community and the township board, we had no choice," she said.
Tom Perkins is a freelance reporter. Contact the AnnArbor.com news desk at news@annarbor.com.