Posted on
Mon, Jan 31, 2011 : 10:21 p.m.
4 apartments damaged in blaze at Huron Heights Apartments in Ypsilanti Township
By David Jesse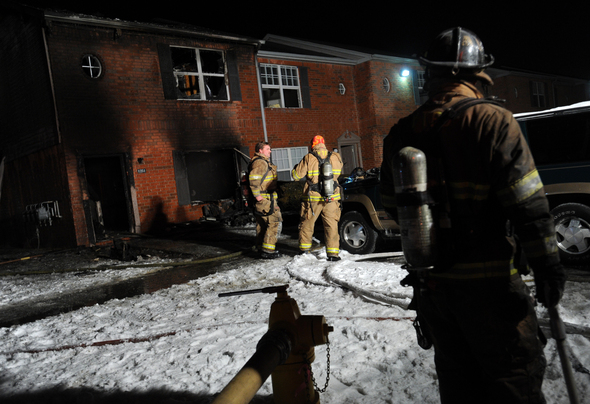 Melanie Maxwell | AnnArbor.com
A resident at Huron Heights Apartments left the stove unattended for a few minutes while cooking this evening, sparking a fire that gutted two apartments and damaged two others, according to Ypsilanti Township fire officials.
Residents of eight apartments in the two-story building were evacuated while firefighters from four departments battled the blaze. The resident who lives in the apartment where the fire started suffered minor injuries, but declined medical treatment, township Fire Capt. Larry James said.
James said the resident at 1251 Concord Drive, an apartment at the west end of the building, was cooking shortly after 8 p.m. and left something unattended on the stove. The stove started on fire, and the resident attempted to extinguish it, but was unsuccessful, James said.
The fire destroyed two apartments and was spreading into two others when firefighters were able to bring it under control, James said. The damage to those apartments was fairly minimal, James said, crediting the fire walls for saving the entire structure.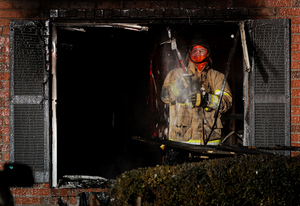 Melanie Maxwell | AnnArbor.com
Ernie Timmons was visiting a friend in a nearby building when the fire broke out.
"We were playing some video games and heard the sirens, looked out and saw people running out of the building and lots of smoke coming out," Timmons said. "The flames were pretty intense there for a while. I'm surprised more of them didn't burn."
By 11 p.m., residents of the four apartments on the eastern end of the building were allowed back inside. The residents in the other four apartments were displaced, and the Washtenaw County chapter of the American Red Cross was on the scene assisting with lodging.
James said residents of the two units that didn't have much damage may be able to return after DTE Energy crews respond to inspect the gas meter.
James said fire inspectors will investigate the blaze. A total of about 30 firefighters from Ypsilanti Township, Ypsilanti, Pittsfield Township and Ann Arbor were on the scene.
A damage estimate has not been determined, James said. He said the residents did not have renters insurance.
Washtenaw County Road Commission crews also were on the scene at about 11 p.m. spreading salt since water used to fight the fire was freezing in the parking lot and road.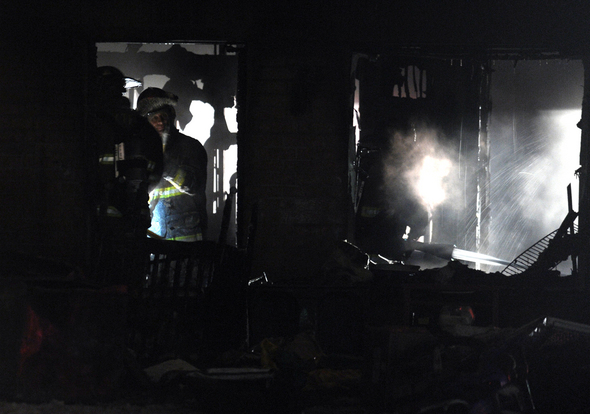 Melanie Maxwell | AnnArbor.com
David Jesse can be reached at davidjesse@annarbor.com.