$40K in facade improvement grants available to Ypsilanti businesses
Posted on Tue, Oct 23, 2012 : 9:57 a.m.
The Ypsilanti Downtown Development Authority has set aside $40,000 for its 2012 round of the Facade Improvement Grant program.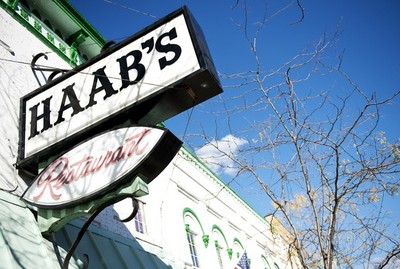 Executive Director Tim Colbeck said the grants can be used for exterior beautification projects.
In May 2011, the DDA board approved the creation of the program to be marketed to each of the three DDA districts. For fiscal year 2011-12, the DDA awarded $21,145 in grants to nine businesses within the Depot Town, downtown and West Cross districts.
Haab's Restaurant at 18 W. Michigan Ave. was one of businesses to receive a $2,500 grant last year to go toward its $5,500 exterior project.
Haab's removed its second floor shutters and repainted its Michigan Avenue facade.
This year, either up to 16 businesses can receive a $2,500 grant a piece or more grants can be given out for smaller amounts. The DDA set aside $20,000 for grant awards for the Downtown District and $10,000 each for Depot Town and West Cross. The maximum grant award can only be 50 percent of the project costs.
The DDA contributed $32,500 from its general reserve fund and the the Eastern Leaders Group will contribute $7,500.
Colbeck said the DDA believes that while the grant amount is not large, it's important to the development of its districts.
"A private business owner may have been sitting on the fence saying, 'I would love to do these repairs, but I don't have the money right now,' " Colbeck said. "These aren't the kinds of things that will leverage an increase in property taxes or permanent jobs, but it's about the aesthetics and improving the quality."
The grant is available to anyone within the districts, Colbeck said, and to apply, an individual does not have to be the property owner. However, the owner will have to submit a letter of consent.
Colbeck said he's not sure how many people may apply for the program, but this year the DDA is allowing a longer timeframe for interested parties to apply. About 14 people applied last year and some applications were subsequently denied for a variety of reasons.
"We kind of just put it out there last year and had a short window to apply," he said. "This year, now they have six to eight months. This will allow us to go strategically to people."
The money will be doled out on a first come, first serve basis, Colbeck said. No deadlines have been set. To view the application, visit the DDA website.