Posted on
Thu, Apr 18, 2013 : 2:59 p.m.
$4M Thompson Block redevelopment: 16 luxury lofts and 14,000 square feet of commercial space
By Katrease Stafford
Courtesy Stewart Beal
Thompson Block owner Stewart Beal has revealed updated plans to redevelop the property that include investing $4 million to transform it into a "premier residential address," with 16 luxury lofts and up to 14,000 square feet of commercial space.
Beal presented his plans to the Ypsilanti Downtown Development Authority Thursday morning.
Beal said he is anticipating a six-month period to raise new equity, obtain state and local approvals and to secure leases for all of the commercial space. Beal said he expects construction to begin in late 2013 or early 2014 for work to be completed with a certificate of occupancy by late 2014 or early 2015.
Beal said a new LLC has been established, Thompson Block Partners LLC, to move the project forward and he has secured local Howard Hanna real estate agent Tyler Weston to market the property and secure potential tenants. Weston also is a partner in the new LLC.
Beal presented similar plans in the past that would have included commercial space on the first floor and entire northern segment of the 148-year-old Depot Town building. The second and third floors were to hold residential lofts in the prior plans. That plan eventually was changed to make the entire building residential with 23 lofts ranging in size from 620 to 1,120 square feet.
"We are introducing a reinvigorated Thompson Block to the community starting today," Beal said. "We've done several things to do that. The old company that used to own the building, Historic Equities Fund 1 LLC, has been rolled into a new investment vehicle. With this new entity we're raising equity and we're selling shares for $10,000 each in the new company and we'll use that new company to do the project."
To create more space for the new plans, Beal said the LLC purchased the property at 107 E. Cross St., which is behind Thompson Block.
"It's a vacant lot and used to be a house owned by David Kircher," Beal said. "The city tore it down and there was an auction and we purchased it. We're looking to combine that property with the Thompson Block and make it one parcel."
Weston said the 16 lofts likely will be priced at $12 per square foot and each loft will be about 1,110 square feet. The 10,000 square feet of first-floor commercial space will be priced at $16 per square foot.
Courtesy Stewart Beal
Weston said he has no worries about the lofts being leased quickly and has also started to reach out to parties who expressed interest three years ago prior to the Sept. 23, 2009 fire that gutted the entire building.
"We've already met with a lot of interested parties and we've reached out to some previously interested parties and they are still interested, one specifically would be a bar," Weston said. "I've also chatted with some other entities but I don't want to be too specific. They would be using it for office-space-type scenarios."
Beal said one of their best leads right now on possible commercial entities in the building is a brew pub that would take about 8,000 square feet of space on the first floor and 4,000 square feet of the basement, where brewing equipment would be kept.
However, Beal said the basement will be expensive to develop because some spaces need to be lowered. The plan also includes the construction of a parking lot with 30 spaces that would be located to the east of the building.
Beal and the city reached a consent agreement in August 2010 that gave Beal three years to complete the exterior envelope of the building, including a roof, walls and all openings sealed with at least temporary doors and windows.
Beal has until Sept. 1 to complete these renovations and he said so far, 10 of the 11 requirements outlined have been completed. However, Beal said he is in the process of working with the city to possibly obtain a one-year extension on putting a roof on the building.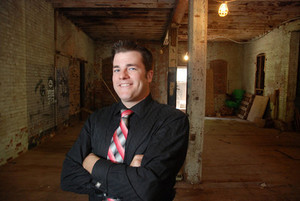 "The reason the roof is not at this point realistic is because it has to go on after $1 million worth of construction," Beal said. "The roof itself would be $50,000 and if that were the case, we could just go and do that project itself. It's pretty feasible to do in the short term, but there's no structure to put a roof on. ... I reached out to several council members and so far they've been appreciative that we've done 10 of the 11."
Beal will have to formally go before council to ask for an extension on the consent agreement, which he says allows for additional negotiation. Several DDA board members inquired about what would happen if council doesn't approve the extension and Beal said it would then go back to mediation.
"There is an appointed formal mediator," Beal said. "...I know city council doesn't want to be in mediation. That's the purpose of starting the meetings now."
City Council Member Pete Murdock, who was at the meeting, told AnnArbor.com that he's open to hearing more of what Beal has to say about the possible consent agreement extension, but only if more details are provided.
"If he wants to talk about the consent agreement, I'm open to hear that," Murdock said. "I've always been interested to see something happen (at Thompson Block.)"
Board Vice Chair Amanda Edmonds and other members inquired whether funding will be an issue for the property.
Beal said the LLC has loan requests out right now and are considering different forms of financing including traditional loans, tax credits and equity investments. Beal said the project still has funding approvals in place from 2009 that are in effect now.
Beal said he's in the process of applying for a facade grant from the DDA, a bridge loan, which is a type of short-term loan, typically taken out for a period of up to three years or potentially longer-term financing and other financing mechanisms. He also is going to re-apply for a 12-year Obsolete Property Rehabilitation Act Exemption in the name of new investment group. The OPRA would freeze the property's taxes at its current rate for 12 years.
One issue with the project, according to Beal, is that everything needs to happen in lock step with each other in order for the project to come together. Beal said financing and approvals need to happen together.
"No one's going to finance it if approvals aren't in place," he said.
Despite questions about the financing, board members were in favor of the development moving forward.
Board Member Linda French said this project could serve as a catalyst for development in the Depot Town area and said it could spur interest in other vacant buildings such as the old train depot.
Beal told AnnArbor.com he's confident the development will take place this time.
"With our new partners we've formed, I'm extremely confident we're going to get it done," he said. "For almost 100 years, this was one of the most bustling areas in Ypsilanti. ... Our vision is to return it to that."
Beal asked the DDA for support in the following areas:
Considering his application for the YDDA Facade Improvement Grant Program
Considering the application for the YDDA Building rehabilitation Program
Consideration for any future occupants who may seek a DDA Liquor License
Write a letter of support to the Michigan Economic Growth Corporation
Beal also is asking the DDA Board to write a letter of support to the city council, for which board members said they will likely bring forth a resolution at their May meeting.
Katrease Stafford covers Ypsilanti for AnnArbor.com.Reach her at katreasestafford@annarbor.com or 734-623-2548 and follow her on twitter.