Posted on
Mon, May 6, 2013 : 5:58 a.m.
$6 million low-income housing project for veteran families proposed in Ypsilanti Township
By Tom Perkins
When Julie Fielek first met Iraq Desert Storm veteran Stephanie Kuczynski, she was managing two large redevelopment projects that would convert a Detroit apartment building into veteran housing.
But not long before that, Kuczynski's life was much different.
After returning from Iraq, she found herself pregnant after a rape, addicted to drugs and homeless. But as she sought help, she found that many veteran shelters and services were designed for single men.
"She was shattered, but she didn't fit in anywhere," said Fielek, who was already getting more involved with veterans issues when she met Kuczynski.
Through a few breaks and with no small amount of determination, Kuczynski was able to turn her life around and get involved with assisting other veterans.
Her story was part of the inspiration that led to Fielek proposing converting her 64-unit, 8.5-acre Oakridge Apartment complex in Ypsilanti Township into housing that would also accommodate veteran women and families.
The complex would not only serve as low-income housing, but also provide veterans services to improve their lives and offer some degree of partnership with the VA Ann Arbor Healthcare System .
The $6 million project is a partnership with Fielek, Premier Property Management and Slavik Building and Development, and would be the first low-income housing development for veterans in Washtenaw County. Additionally, it would be the only in the state designed with families in mind.
"This type of housing is becoming a big trend," said Bob Beale, owner of Premier. "There's a big push by Veterans Affairs to eliminate homeless veteran issues by 2015.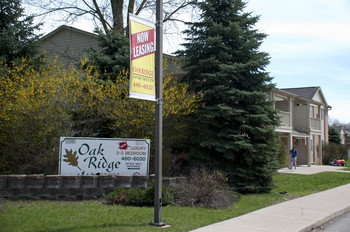 Tom Perkins | For AnnArbor.com
"With the winding down of the wars, there's not a lack of returning vets. It is a significant problem."
A "moment-in-time" snapshot by Washtenaw Housing Alliance found more than 200 homeless veterans in Washtenaw County.
Julie Steiner, executive director of the Washtenaw Housing Alliance, said the push by Veterans Affairs to eliminate the homeless veteran population is bringing attention to the issue. In Washtenaw County, Veterans Affairs recently teamed up with the U.S. Housing and Urban Development Department to offer 125 section 8 vouchers specifically for veterans.
"There is a lot of news about it and I think developers are responding," Steiner said.
The proposed Oakridge veterans housing project was the result of several things happening concurrently.
Fielek got more interested in veterans' issues after learning about veterans housing for men in Lansing four years ago. There she noticed a lack of housing for veterans with families and how veterans' benefits don't extend to the family. She also noticed a new type of veteran who was younger and skilled but lacked the ability to convert their skills into something employers found attractive. Her interest was growing when she met Kuczynski.
At the same time, Fielek found the Oakridge complex at 1326 Holmes Road only breaking even after she built it 20 years ago. She said she maintains the property well, but it's now in need of new roofs, new parking lots and other major renovations.
As she discussed what to do with the housing with her son, he suggested they pursue low-income housing credits that would make the project feasible. Beale, who manages Oakridge, has experience renovating low-income high rises in Detroit into housing for the elderly, and made the perfect co-developer.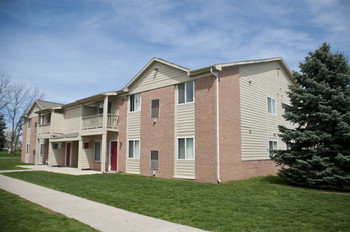 Tom Perkins | For AnnArbor.com
Of the 64 units, 19 are two bedroom and the rest are three bedroom, which is a break from the usual utilitarian one-bedroom, one-bathroom veterans housing stock, Fielek said.
"I think we're very unique simply because we want to house women, families, parents and children," she said.
Plans include a community center that would house a physician who is attempting new approaches to treating post-traumatic stress disorder symptoms. The budget also includes a van that would transport residents back and forth to the Veterans Affairs Medical Center.
Beale said there has no commitment from Veterans Affairs to partner with Oakridge, but he said he is hopeful they would offer some kind of services at the complex.
Although the housing would be considered permanent, Oakridge would also offer services centering around housing issues or how to progress to home ownership.
Beale said the third type of service Oakridge would provide centers around life skills. Local groups would provide classes on healthy living, relationship building, cooking, budgeting, parenting and other similar courses.
Beale said the development team is submitting its applications for low income tax credits in August. If they are approved, the project must also receive site plan review and approval from Ypsilanti Township.
Urban County recently agreed to provide $420,000 in Washtenaw County HOME funds, which is federal dollars provided to Urban Counties through HUD. The group also will be seeking low-income housing tax credits, project-based vouchers, private capital and other grants.
Construction could begin as early as April 2014, Beale said, and he expects it would wrap up a year later.
Tom Perkins is a freelance reporter. Contact the AnnArbor.com news desk at news@annarbor.com.