Posted on
Mon, Jan 28, 2013 : 5:57 a.m.
A new city hall? Ypsilanti may consider the idea down the road
By Katrease Stafford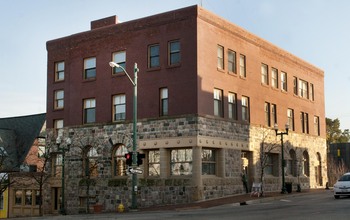 Tom Perkins | AnnArbor.com
The city of Ypsilanti could have a new city hall in its future as it looks for ways to trim expenses, though City Manager Ralph Lange said it's nothing that would take place immediately.
"It would be a very complex deal that I don't want to get everyone up in arms about," Lange said. "How fast it would move, I don't know. It's just an idea that's been mentioned and I would say that when we have the capacity to run it down, we will."
Lange said the idea was mentioned during a goal-setting meeting shortly after the city received a SEMCOG report earlier this month that outlined ways the city could become more efficient.
SEMCOG recommended that the city look at combining departments to cut costs and become more efficient.
"The SEMCOG report had talked about consolidating departments and assets, and lowering overhead costs," Lange said, adding that the report made a passing reference to a new city hall. "They don't say do it, they say it ought to be looked at and that did come up in the goal setting meeting… We're looking into it."
During that meeting, Lange said he would consider building a new city hall, possibly between the police and fire departments. Lange believes it could possibly save the city money in the long run to have all of the departments in one location.
When the time comes for the city to decide whether to move forward with the idea, Lange said the main thing that will be looked at is whether the city would receive a return on its investment.
According to assessor records, the city purchased the current city hall at 1 S. Huron in 1982 for $400,000. Officials said that if a new city hall were to be built, the current one would be likely sold.
"It's too early to say because we haven't run all the numbers down, but I think it could save money absolutely," Lange said. "If it could work — and we have a lot of homework to do — it has a lot of potential to be very beneficial."
The idea is one of several SEMCOG suggestions that the city is looking at, Lange said.
"There are a lot of different possibilities of what we might do or consider to be continually efficient and I think its just one of at least 40 or 50 recommendations," Lange said.
Lange said no formal plans or proposals have been made yet.
"Nothing can happen for an extended period of time and I don't know if that's a number one priority," he said.
Ypsilanti Mayor Paul Schreiber declined to comment on the feasibility of a new city hall, but said the city has more pressing issues to handle that have a direct impact on the budget.
"What's on my radar is getting union contracts done and that's certainly something I think all of council is interested in getting done," Schreiber said. "To me, those are what the next steps are. Consolidation of city hall into one building is much further in the future. There are no drawings, no proposals, just thinking way ahead.
Council member Brian Robb said a new city hall isn't something that would make his "top 100 list" of things the city should target.
Council member Pete Murdock said he would not support the idea if it were brought up now.
"How can we build this when we're going through all of these budgetary issues," Murdock said. "I don't think it's something we should be looking at. I'm not really supportive of it right now, who knows five years from now, but right now we have other things to spend our time on."
Katrease Stafford covers Ypsilanti for AnnArbor.com.Reach her at katreasestafford@annarbor.com or 734-623-2548 and follow her on twitter.