Posted on
Sat, Jun 9, 2012 : 5:56 a.m.
Ypsilanti high students collaborate to install Civil War mural on historic Thompson Block
By Katrease Stafford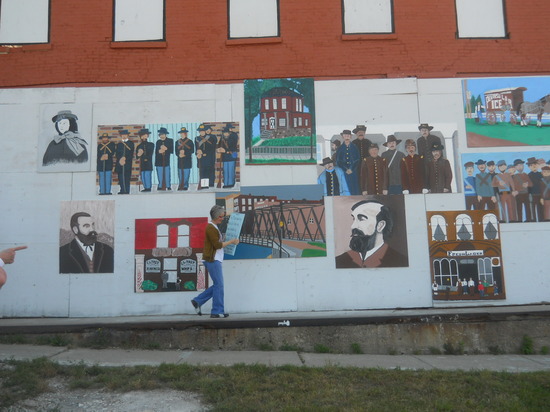 Katrease Stafford | AnnArbor.com
A public art display created by
Ypsilanti High School
students was installed Friday morning on the west side of the nearly 150-year-old
Thompson Block
building in Depot Town.
Mary Delcamp, president of the Historic Eastside Neighborhood Association, and her husband John Delcamp, member of the Civil War Reenacting Company E, 17TH Michigan Infantry, came up with the idea.
The building served as Union Army barracks during the Civil War. During the war, the basement was used to prepare food, the ground floor was a wagon repair shop and soldiers lived on the second floor and part of the third floor.
"Ypsilanti has a rich history in the Civil War and we thought this blank, white space was begging for some art," John Delcamp said. Mary Delcamp said she approached YHS art teacher Robin Evans about the idea after growing tired of just seeing the blank wall, which is a temporary facade over the fire-damaged structure.
"This was my idea but she had the vision for it and implemented it," Mary said. "I just gave ideas and I had no idea of how it would turn out, but I'm very pleased with it."
Evans said after the Delcamps contacted her, she informed her students about the idea. They were interested, but they first had to get approval.
The process began last December when Mary and John reached out to the building's owner, Stewart Beal.
"When we suggested the idea to people, they would say 'Oh, he'll never let you do that,'" John said. " We asked him and he got right on it and said, "it's great."
A fire gutted the Thompson Block on January 23, 2009. Beal and the city ended up in court over a disagreement on how to proceed with the building's renovation.
After receiving approval from Beal, the Delcamps said they had to get approval from the Ypsilanti Historic District Commission.
"They were thrilled," Mary said. "Because it's the 150th anniversary, we're calling it a commemorative mural."
Once the project had the green light, John approached his group about securing $500 worth of paint supplies and plywood.
"When I went to my reenactment club about the money and said high school students were involved, they were all for it," John said.
Upon receiving the supplies, Evans said she split her students up into groups.
"We kind of doled out some imagery because John had some pictures and the others we got from historical documents of the Ypsilanti Museum," Evans said.
In total, nearly 67 art students worked on the project for three and a half weeks.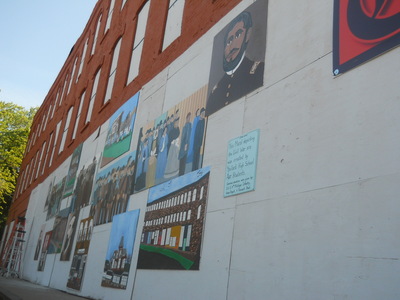 Katrease Stafford | AnnArbor.com
"Having their artwork out in the community is big," Evans said. "It's great having it inside, but putting it up somewhere where the whole public can see it is huge for them and gives them pride in their town and their school."
Evans, who has been teaching art at the high school for 13 years, said quite a few teachers and the high school's principal have given her positive feedback to the portraits.
"This morning as I was packing them up, they came in and said, 'Wow, the students did this?'" Evans said. "We have so much talent in the school and the students don't even realize how talented they are."
The side of the building where the art is displayed has been defaced a few times by graffiti, but Evans said she isn't concerned about someone coming along and painting over the pictures.
"My stance is that if it happens, I'll fix it," Evans said. "Why would you not put something up just out of fear that someone might mark on it?"
Evans said the mural will be up at least through the end of summer, and possibly longer. John said his group has plans to have a historic marker installed that will have information about the various regimes that stayed in the building.
"That was about $3,500," John said. "Beal is going to help us install it and we're very proud of what's happening with that."
The group might have a commemorative ceremony during the upcoming Heritage Festival to highlight the marker and the mural. Details are still forthcoming.
"The thing about Civil War history is that there is so much that hasn't been brought out yet," John said. "Those who don't know their history makes the same mistakes, and I think its important for people to know where they come from."