Accidental grease fire at Roundtree Apartments causes $25K worth of damage
Posted on Wed, Jun 27, 2012 : 5:22 p.m.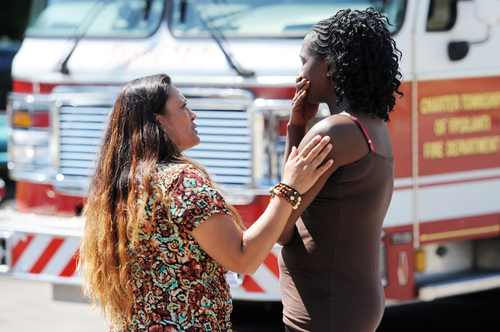 Melanie Maxwell I AnnArbor.com

A small grease fire in an apartment at Roundtree Apartments in Ypsilanti Township caused nearly $25,000 worth of building damage, according to fire officials.

Three fire engines and three utility vehicles responded to the fire that started around 2:55 p.m.

Ypsilanti Township Fire Capt. Larry Jamessaid firefighters arrived on the scene shortly after and put out the fire in about seven minutes. James said no one was injured, and the fire was ruled accidental. All of the damage was in the kitchen.

"I've seen worse and they called right away," James said. "They (the family) would have tried to fight it but they didn't know where the extinguisher was."

James said he estimates the fire caused nearly $7,500 worth of content damage, and he was told the family did not have any rental insurance.

Betsey Schneider, associate vice president of McKinley, which owns the apartment complex, said Red Cross was on site to provide the family with help.

Fellon French, 28; her son Aidan, 7; and her mother, Linda Mackson, were in the apartment when the fire started.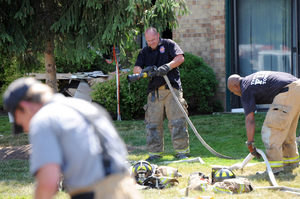 Melanie Maxwell I AnnArbor.com
French said she was cooking when the grease "popped" and a flame ignited.
"That kind of stove will start a fire and I don't know why they even have these stoves," French said. "Now look at my place, all because of a stove. My son was trying to save some stuff and I was like, 'boy, come and leave the stuff there.'"
French said although the fire was contained to the kitchen, the entire apartment was filled with black smoke.
"The smoke was so bad," French said. "We were running all around to find a pot of water or a fire extinguisher and we knocked on our neighbor's door and told them there was a fire but they couldn't find theirs. A guy upstairs found his in his closet."
French said she is completely devastated by the fire.
"They (the apartment complex) told me not to worry about it and that they will take care of it, but I'm worried about it because that's me and my kid's stuff," French said. "I lost everything once before I moved here and I'm losing it all over again."
Katrease Stafford covers the city of Ypsilanti for AnnArbor.com. Reach her at KatreaseStafford@annarbor.com. You can also follow her on Twitter.