Posted on
Thu, Jun 27, 2013 : 5:58 a.m.
After 3-year fundraising effort, Ypsilanti community celebrates groundbreaking for Rutherford Pool
By Tom Perkins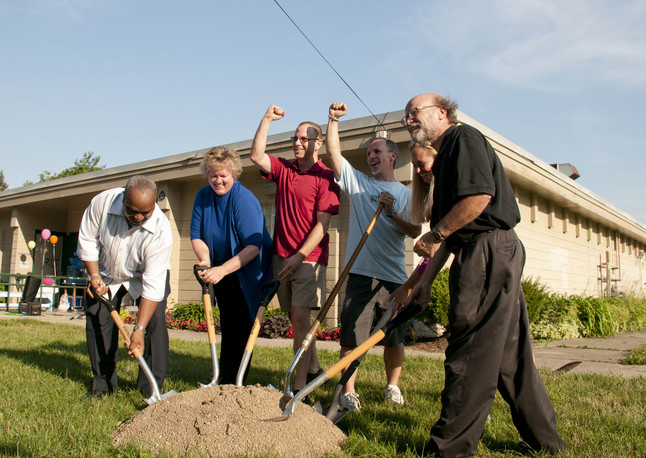 Tom Perkins | For AnnArbor.com
When the journey that is the effort to rebuild the Rutherford Pool began in early 2010, the pool's physical shape was grim.
"It was held together literally with duct tape," Lisa Wozniak , a member of the Friends of the Rutherford Pool, laughed.
On Thursday evening, families, residents, business owners, local leaders, county representatives, state officials and the core group of volunteers in the Friends gathered outside the 40-year-old poolhouse to break ground for the new pool.
They celebrated accomplishing something special - raising more than $1 million in just over three years with the help of 500 to 600 community members to save a local pool many doubted could be saved.
The accomplishment prompted Steve DeBrabander, who manages the Michigan Department Natural Resources Trust Fund Grant, to tell the Ypsilanti community and Friends: "You rock!"
"I travel all over the state and meet with lots of different communities, and it just doesn't come together like this very often," said DeBrabander, whose fund provided $300,000 toward the rebuild effort. "What it takes is for the community to come together, it takes some serious leadership … and don't take it for granted; these things don't happen like this all the time. I'm very impressed with everything you've done."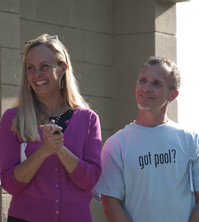 Tom Perkins | For AnnArbor.com
Cathy Thorburn, who has been at the fore of the effort since it began in early 2010, commended the community members who stepped up to help in both big and small ways.
"Every step has been a different struggle, but there have been many joys that have come out of it. And you find out the skills of the people around you who will pitch in at a moment's notice. It's awesome how the community has come together," she said.
11-year-old Katie Wu recalled her disappointment at the loss of the pool when it closed in 2011 because it became apparent a full rebuild of the deteriorating pool was the only option.
Wu lives nearby with her family and she said she found it a fun spot where she got to meet a lot of new people.
"I was not very happy," she said. "It's hot in the summer and it's a nice place to go - and convenient."
The pool, at 975 N. Congress St., saw around 17,000 visits annually, and 150 families held passes before it closed. Daily visits during the summer ranged between 200 and 500.
Deanna White and her husband Michael White have a family of five and have dove into the pool for over 25 years. She counted all the pool's offerings like the swim team, swim lessons or 7 a.m. swim for adults. She recounted how her friends who since moved from Ypsilanti met at the Rutherford Pool and were later married.
Like so many others at the celebration, she and Michael highlighted the community spirit.
"It's not the effort of the city, but the efforts of the people themselves," Michael White said. "We love our community pool. And you can't keep the spirit of the community down. "
Rachel Egherman, who attended the 7 a.m. swim class with Deanna White, echoed that sentiment.
Tom Perkins | For AnnArbor.com
"So many people said that we can't do this and we did it, so that's why we're here to celebrate today," she said.
Ann Arbor Area Community Foundation President Cheryl Elliot provided an example of the community spirit. It came in the form of a small donation from two young Ypsilanti expats now living in Seattle who saved and sent their allowance to the Friends.
Friends Chair John Weiss also praised everyone involved for their work and contributions.
"Many people from the outside see Ypsilanti as a struggling or distressed community with few resources, but I think this project tells a much different story," he said.
"I'm touched when I think of all the people who contributed. I think about everyone who has contributed large and small, and I think about the community that has made this happen. We have an incredibly strong community that rivals any other in the country. I'm just proud to be a part of it."