Posted on
Mon, Feb 27, 2012 : 5:59 a.m.
Amid concerns over Ypsilanti finances, 13 expected to leave public safety ranks in 2012
By Tom Perkins
The City of Ypsilanti is facing the prospect of a public safety personnel exodus in 2012.
Nearly one-third of the police department and up to four firefighters have retired, resigned, announced their retirement or are considered likely to leave the city sometime this year.
The reason: Officials say it is concern over the city's budget situation and a new health-care arrangement that requires employees to pay 20 percent of their health-care costs.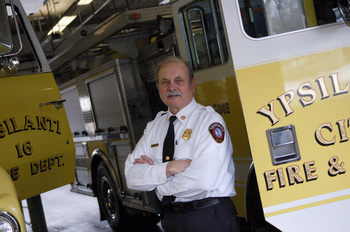 Despite the challenges, Police Chief
Amy Walker
said she is confident that the department is up to the task of replacing nine of its 30 officers.
"If this happens, we'll certainly be ready for those changes," she said. "What else are you going to do? You have to keep moving forward."
But the city will have to wait until after a May 8 vote on an income tax proposal and Water Street debt retirement millage to determine if it can fill the vacancies.
Staff and council are working on a five-year budget plan that includes asking voters to approve the two new taxes. They have said the plan won't include any layoffs, though one fire department vacancy won't be filled.
Fire Chief Jon Ichesco said he has one firefighter who was injured on the job but had already submitted his retirement paperwork prior to the injury. That firefighter is scheduled to leave in March.
Two other firefighters are retiring in October, Ichesco said.
Currently the department operates with six firefighters on the first two shifts and seven on the third shift. With the retirement of a command officer who won't be replaced, all three shifts will have six firefighters.
Ichesco said he hasn't received any direction to replace any staff.
"There's more gray than black and white in this situation," he said.
Filling the vacant positions is a staff, not city council, decision. Acting City Manager Frances McMullan did not return calls from AnnArbor.com.
Ichesco said he also has nine other firefighters who could retire at any time, but he doesn't expect those retirements to come before 2014.
"We'll deal with it," Ichesco said. "The more people we're down, it essentially creates overtime."
The firefighters' union contract is up on June 30 of this year. The union agreed to a 5-percent pay cut in return for a no-layoff clause during 2010 contract negotiations.
The police department has already seen two patrol officers resign, and one more will retire by the end of the fiscal year. Among the two who have departed is Officer Richard Houk, the city's downtown police officer who is partly funded by the Downtown Development Authority.
One officer, who wasn't named by officials, recently took a position at the Washtenaw County Sheriff's Office.
According to a memo McMullan provided to City Council, the city is also expecting to lose three sergeants to retirement, two more patrol officers and Lt. Craig Annas by July 1.
Walker said the budget situation is the departing officers' "only concern."
"As chief, I don't want those people to walk out the door and they have the potential to stay here, but I understand that if contracts change, to the dismay of everybody, then they need to do what they need to do," Walker said. "What I've heard in my discussions with them is that no one wants to leave YPD. It's a family-type atmosphere here."
Walker said she is already interviewing candidates for the two vacant positions and she expects to replace everyone who is leaving. Still, the number of new faces that could potentially be in the YPD in 2012 is a new challenge for the department.
But whether some of those positions are filled could be impacted by the result of the May 8 income tax and Water Street debt retirement millage votes. The city is asking voters to approve a 1 percent income tax for residents and 0.5 percent tax for those employed in Ypsilanti, including at Eastern Michigan University, but living elsewhere.
Voters are also being asked to approve a 4.7085 mill tax to retire the city's Water Street debt, but city officials now say they would likely only levy 2.3543 mills.
Council has warned that failure to pass the taxes could lead to significant cuts in the city. Though no specific cuts have been named, they are likely to include reductions in public safety personnel.
"We are certainly facing tough times and this special election coming up in May is very important to what public safety is going to look like," Walker said.
Mayor Paul Schreiber said the situation is cause for concern, but he added that it wasn't totally unexpected. He said 14 city staff — including six police officers — retired or resigned before voters rejected an income tax proposal in 2007.
He also said that passing the income tax and Water Street debt retirement proposals are critical to the city being able to fill the vacancies.
"This may be a preview of what it would be like without more revenue," Schreiber said. "We have no magic way of sustaining the services we have without more revenue."
Tom Perkins is a freelance writer for AnnArbor.com. To reach the news desk, call 734-623-2530. For more Ypsilanti stories, visit our Ypsilanti page.