Ann Arbor YMCA offering free swim lessons at 3 Ypsilanti apartment complexes
Posted on Sat, Jul 21, 2012 : 5:57 a.m.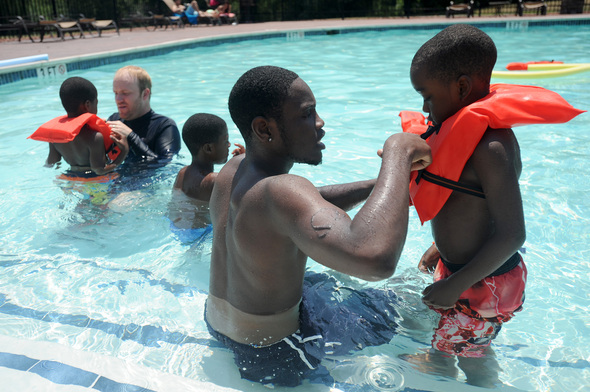 Angela J. Cesere | AnnArbor.com

The Ann Arbor YMCA is offering free swim and water safety classes at three Ypsilanti apartment complexes this summer following last year's successful program.

Twenty children participated in the 2011 inaugural Ypsi Splash! Program at Aspen Chase Apartments located at 2960 International Drive.

The program has expanded to allow access to more children and includes not only Aspen Chase but the Villas located at 2911 Bynan Dr., and Golfside Lake at 2345 Woodridge Way.

Jan Hack, communications director of the YMCA, said the goal is to have 50 children participate this year.

"We still have registration ongoing," Hack said. "What happened last year was as parents saw what was going on, registration began to fill up. We're expecting that this year as well."

Aquatics Director Christina Wackenheim said this year's program has about 20 children enrolled but registration is still open. Lessons began July 6 and will run through Aug. 10 and take place every Friday.

Hack said the YMCA has always had a free splash program but it decided to figure a way to include the children who didn't have access to transportation.

"We decided to bring the splash program to them," she said.

Hack said the YMCA received a $3,390 grant from the youth council of the Ann Arbor Community Foundation Council and this allowed organizers to triple the program in size.

"I really think it's interesting that they granted us full funding for the program this year," Hack said. "It really is kids helping kids. They understand that swimming is a life skill and one that these kids will be able to carry forever."

The YMCA reached out to McKinley, who owns all three complexes, and asked if the company would be interested in having the lessons at its swimming pools.

"It's really a win-win for everyone and it's great for us to be able to do this," she said.

Hack said children from low-income households have accidental drowning rates three times higher than that of their higher-income peers. In many of these families, the parents also do not know how to swim.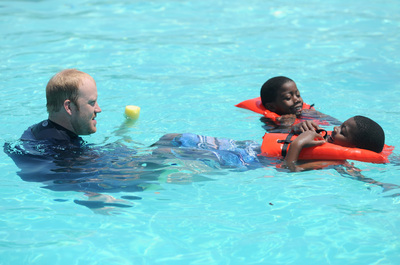 Angela Cesere | AnnArbor.com
The risk of drowning increases exponentially when swimming pools don't have lifeguards on duty.
Hack said while she can't speak to whether or not these three pools have active guards, she said any child near a potentially unguarded body of water is at risk of drowning, but a non-swimmer is at a much higher risk.
"You have to have a healthy respect for the water and know how to handle yourself," Hack said.
Families are grateful to have access to the free swim lessons, Hack said.
"Whenever a parent can access free, quality safety lessons for kids and themselves it's a benefit to all," Hack said. "Our mission is to strengthen the foundation of the community. This means helping our neighbors and many of our outreach programs are in Ypsilanti."
Katrease Stafford covers the city of Ypsilanti for AnnArbor.com. Reach her at 734-623-2548 or KatreaseStafford@annarbor.com. You can also follow her on Twitter.