Posted on
Sun, Jan 27, 2013 : 5:58 a.m.
Auto workers and Ypsilanti Township team with Habitat For Humanity to help a veteran
By Tom Perkins
Tom Perkins | For AnnArbor.com
Ypsilanti Township employees, Ypsilanti Township elected officials and Ford-Raswonville plant employees from UAW Local 898 teamed up with Habitat For Humanity of Huron Valley this weekend to expedite the rehabilitation of a vacant home.
When the project is complete, the two-bedroom home will house a local veteran.
By mid-morning Saturday, about 16 volunteers were were laying tile, hanging closet shelving and building porches.
Bill Dunphy, the project manager for Habitat For Humanity of Washtenaw County, said the agency has completely gutted the 1,000-square foot home to the studs.
The project has taken a year so far because Habitat For Humanity has been busy with other homes, Dunphy said, but, when complete, it will have a new roof, new floor, new furnace, new siding, and it will be well-insulated - and it will feel like a new home.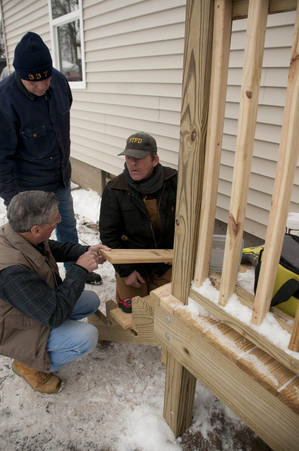 Tom Perkins | For AnnArbor.com
The house, at 1115 Parkwood Ave., sits across from another vacant home Habitat is renovating.
Dunphy said Habitat is renovating 14 township homes this year. The group prefers working with abandoned homes over building new ones because Ypsilanti Township has seen so many homeowners lose their properties in recent years.
"There's a lot of vacant real estate in Ypsilanti and Ypsilanti Township, so there's no sense in building a new house when you can recycle an old one," he said.
In the Nancy Park neighborhood alone, Habitat has renovated 30 homes, Dunphy added.
Ypsilanti Township Trustee Mike Martin was one of those working on the house early Saturday. He lives in the neighborhood and said he is pleased to be a part of a project close to home.
"This is my neighborhood and I walk down these streets every day, so I see a lot of the houses that people have had to walk away from. So it's good to have Habitat For Humanity working with the township to keep property values up and encourage home ownership," Martin said. "And I'm a veteran, so the fact that it's for a veteran makes it even more of a positive."
Rick Roe, who serves on the veteran's committee at UAW Local 898, was one of several UAW members working at the home. He said the UAW has helped raise funds for veterans' causes and built ramps for those who have needed them, but he said this was the largest project they had undertaken.
"We just like to give back to the community. This is our first time helping out with Habitat For Humanity and hopefully the first of many more times we help out," he said.
Tom Perkins is a freelance writer for AnnArbor.com, covering Ypsilanti Township.