Posted on
Fri, Nov 16, 2012 : 5:58 a.m.
Blight Beat: City of Ypsilanti seeks demolition of home abandoned 17 years ago
By Tom Perkins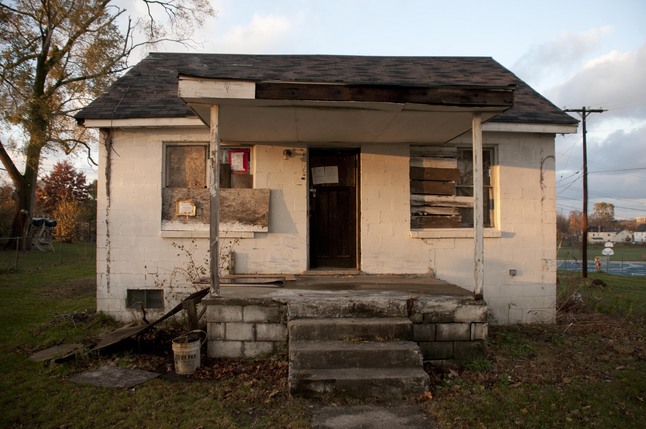 Tom Perkins | For AnnArbor.com
A long-abandoned home on Ypsilanti's southside could soon be torn down.
City building officials are asking City Council to approve the demolition of a home at 818 Monroe Street, which has been abandoned since the mid-1990's.
Among other issues, building inspectors have found that at the home there is a leaking and deteriorating roof which has let moisture inside. That has led to significant mold growth, caused drywall deterioration and compromised the structure's interior.
Additionally, the chimney is detaching from the home and collapsing, and the exterior is in a severe state of disrepair.
The city is beginning to take aim at blighted homes through several measures, including a process designed to address structures that fit the definition of a dangerous building per city ordinance and state law.
Once a home is identified as dangerous, Ypsilanti Fire Chief Jon Ichesco sets a hearing with a city-appointed dangerous building officer. The officer then tries to address the situation either by working with the owner to have the building brought up to code or through demolition.
If the building's owner fails to appear at the hearing or no consent agreement is reached, the issue goes to City Council, which can approve a building's demolition through a resolution. If there is resistance to that order from the property owner, the city can bring the issue before a Washtenaw County Circuit Court judge.
City Council will consider the case at its Nov. 20 meeting.
The home is owned by brothers David and James Ragg who let the home fall to disrepair in the mid-1990's before abandoning it altogether, Ichesco said.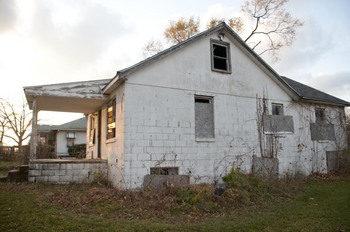 Tom Perkins | For AnnArbor.com
He said building officials have inspected the home on numerous occasions and cited the Raggs for a multitude of violations.
Ichesco said he has never had a conversation with the Ragg family, though they used to leave building inspectors messages spray painted on plywood or posted on paper in the house. Ichesco said the messages generally warned city officials to stay out of the home and included scripture.
"They don't respond to us," Ichesco said. "They once got the outside cleaned up, but they choose not to do anything with the house."
He said he is unaware where the Ragg brothers live now, but the city sends its notices and citations to a post office box in Ypsilanti.
Bringing the house to the point of demolition has taken so long because the Raggs performed some work on it from time to time, Ichesco said. Ypsilanti ordinance allows property owners 18 months to make repairs after they are notified of code violations. If a resident makes even minor repairs, that 18 months resets.
AnnArbor.com was unable to locate either of the owners.
Ichesco said the house fell into tax foreclosure but the Washtenaw County Treasurers' Office ended up giving it back to the Raggs due to hardship considerations.
"At a minimum, it's secured but it's falling down and continues to fall down, and it needs to come down," Ichesco said.
The house is one of three on Monroe Street and four on Ypsilanti's south side city building officials contend are dangerous buildings and are attempting to have demolished or brought up to code.
If City Council approves the demolition, it could be torn down within 60 days of the hearing and a lien would be placed on the property.