Posted on
Mon, Nov 19, 2012 : 5:58 a.m.
Ypsilanti City Council asked to address moldy, leaking ex-Smith Furniture Building downtown
By Tom Perkins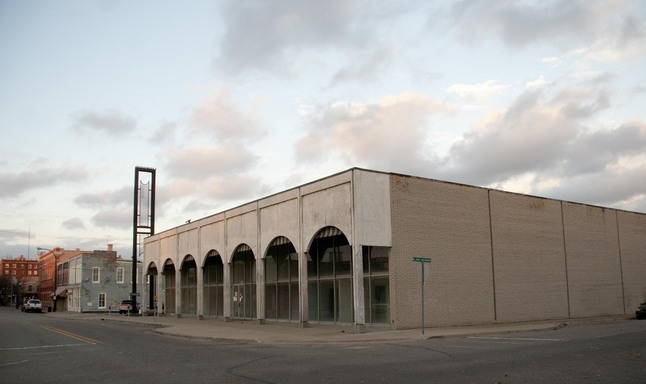 Tom Perkins | For AnnArbor.com
Following a recent rainstorm, hours after the clouds cleared, it continued to rain inside downtown Ypsilanti's Smith Furniture Building.
That's because the roof on the building has been riddled with holes that have continued to grow over the last three years.
The leaks have fostered significant structural damage and the growth of several types of mold, according to city building officials. Now, they are asking the City Council to order the 15,000-square-foot building at 15 S. Washington repaired. If it isn't, officials fear the whole building could collapse.
"We have got to get to this done before we have interior collapse," said Ypsilanti Fire Chief Jon Ichesco. "If we have a bad winter, we could be in trouble."
The city is beginning to target blighted buildings through several measures, including a process to address structures that fit the definition of a dangerous building per city ordinance and state law.
Once a building is identified as dangerous, Ichesco sets a hearing with a city-appointed dangerous building officer. The officer tries to work out a solution to address the situation either by having the owner bring the building up to code or arranging demolition.
If the building's owner fails to appear at the hearing, the issue goes to the City Council, which can approve a building's demolition. If there is resistance to that order from the property owner, the city can bring the issue before a Washtenaw County Trial Court judge.
The building housed the Smith Furniture Company when it opened in 1965 but has been vacant since around 1995, Ichesco said.
Its owner is James Pate, who used to play a large role in the Ypsilanti business community. In 2008, Ann Arbor Spark considered using the building for a high-tech business incubator, but those plans fell through.
Ichesco said thick mold blanketed one of the front rooms around two years ago, and green and black mold began growing throughout the building.
"The stuff near the front window was green and it was about the right height to mow," Ichesco said. "It looked like a great putting green."
Dunn Construction was hired to abate the mold and start repairing the interior, but no work was completed after the mold was sprayed, Ichesco said.
Pate has not responded to city notices or citations since.
"He doesn't show up to hearings, he doesn't respond. We don't know what he plans to do," Ichesco said.
The City Council will consider the case at its regular meeting on Tuesday, Nov. 20, 2012