Posted on
Tue, Aug 27, 2013 : 5:55 a.m.
Blight Beat: Ypsilanti Township church could face litigation over vacant home
By Tom Perkins
Ypsilanti Township could soon take legal action against a church if it doesn't address a blighted home on its property.
At its Aug. 26 meeting, the Ypsilanti Township Board of Trustees unanimously approved staff's request to ask a judge, if necessary, to order the Word of Deliverance Church to bring the home up to code or demolish it.
The house, at 1775 Holmes Road, previously served as the church's parsonage but has sat vacant for more than 10 years.
Township Building Director Ron Fulton told the Board that the township first issued a notice of code violations in February 2012. He said the township has continued to work with the church since then to get the building brought up to code, but numerous issues remain.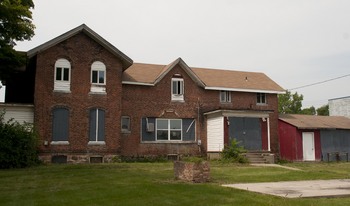 Tom Perkins | For AnnArbor.com
"We've given them every possibility to bring the building up to code," Fulton said. "I'm not speaking ill of them, but they need to maintain the same responsibly as everyone else in the community. They have great intentions, but great intentions don't take it off of our hit list."
Among other issues, the roof leaked for so long that the plaster ceiling and walls have disintegrated, though Fulton said the roof was recently repaired.
On the exterior, the structure's brick facade has begun to crumble and some of the windows are broken. Fulton said the house has also attracted vandals, people have been discovered living in it and people have generally been "making a mess and tearing it up."
The home sits on the northwest corner of the intersection of Holmes and Midway Boulevard, which is opposite from the former Willow Run High School.
"We have worked with them in every way we know how to and they are continuing to make progress, albeit at a snail's pace," Fulton said.
"We're asking for authorization (to take legal action) if necessary. We hope we won't have to make it to 'if necessary.'"
He said the church faces a challenge because its congregation is small and the repairs are costly. Township records show Word of Deliverance purchased the home in 1992 for $100,000.