Posted on
Fri, Apr 12, 2013 : 5:59 a.m.
Blight beat: Home filled with debris targeted for rehabilitation
By Tom Perkins
The Gault Village Neighborhood in Ypsilanti Township is known for being the site of multiple Habitat For Humanity of Huron Valley success stories.
A partnership between the neighborhood, Habitat and Ypsilanti Township has resulted in 22 projects ranging from refurbishing vacant homes that brought in new owners to energy efficiency upgrades.
With that in mind, the Ypsilanti Township Office of Community Standards is looking to quickly move forward with the cleanup of a blighted home in the neighborhood that was left vacant with when its owner passed away.
Officials are hopeful they can quickly address the issues and get the house turned over to Habitat or the U.S. Department of Housing and Urban Development before it falls into further disrepair.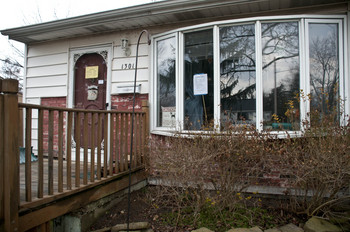 Tom Perkins | For AnnArbor.com
"We've done a lot of good work in acquiring, fixing up and providing new homes for new homeowners in this neighborhood, and this flies in the face of all that substantial progress we have worked very hard to achieve," Mike Radzik , director of the office of community standards, told the Ypsilanti Township Board of Trustees at its April 8 meeting.
The Board of Trustees subsequently unanimously approved township staff taking legal action if the home is not brought up to code.
The home, at 1301 Shirley Drive, was brought to the township's attention after neighbors began complaining about vermin in the area. Township officials didn't see mice or rats in their investigation, but did find physical evidence of their presence and could hear animals in the home.
Radzik said the initial investigation of the property found it stuffed with debris and junk.
A significant amount of junk still is visible from outside the home, though Radzik estimated about 75 percent of it has been removed.
The homeowner left the property in the care of a neighbor who had been granted legal authority and power of attorney prior to the owner's death, officials said.
Radzik said the new property owner did some cleanup work and the township worked with her and the estate attorney to try to get the cleanup completed, but that has since come to a standstill.
"They don't have the resources to do anything with it," Radzik said. "Through HUD or Habitat, we need to restore the house, and put in an owner and get back on tax rolls as a quality home."
Tom Perkins is a freelance reporter. Contact the AnnArbor.com news desk at news@annarbor.com.